Verizon sells 2.7M iPhones in Q2, smartphone penetration hits 50%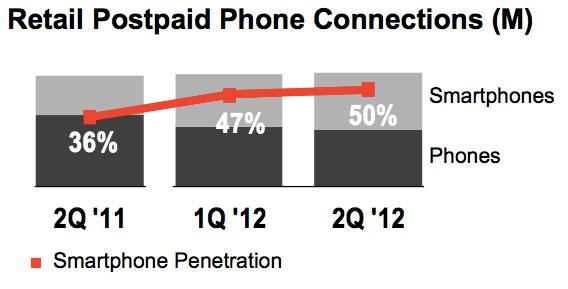 Half of all mobile subscribers at Verizon Wireless, the largest cellular provider in the U.S., are now smartphone users, thanks in part to sales of 2.7 million iPhones in the second quarter.
Smartphone penetration in the quarter was up 13.8 percentage points from the same period a year ago, when just 36 percent of Verizon subscribers had a smartphone. It also grew 3 points from the first quarter of 2012, the company revealed on Thursday.
Total sales of Apple's iPhone through Verizon Wireless were 2.7 million units, Chief Financial Officer Fran Shammo revealed. In comparison, Verizon sold 2.9 million Android-based smartphones, and 2.5 million of those were 4G LTE handsets.
Sales of the iPhone at Verizon were up from 2.3 million in the same quarter a year ago. But sales were also down from the 3.2 million iPhones activated in the first quarter, as customers begin to hold off on buying a new iPhone in anticipation of a new model from Apple expected to arrive later this year.
Shammo also revealed that a quarter of iPhone sales from the second quarter were customers who were new to the carrier. That's higher than the 20 percent of 4G LTE customers who were new to Verizon.
Verizon sells Apple's latest-generation handset, the iPhone 4S, as well as the iPhone 4. The iPhone 3GS, which first launched in 2009 and is still sold for free with a new two-year service plan, is only available through Verizon's chief rival, AT&T.
Analyst Christopher M. Larsen with Piper Jaffray said Verizon's second-quarter results were positive, as the carrier added 888,000 net retail postpaid wireless subscribers. The company's adjusted earnings per share of 64 cents was about in line with the Wall Street consensus.