Virtual scroll wheel patent shows alternate iOS input method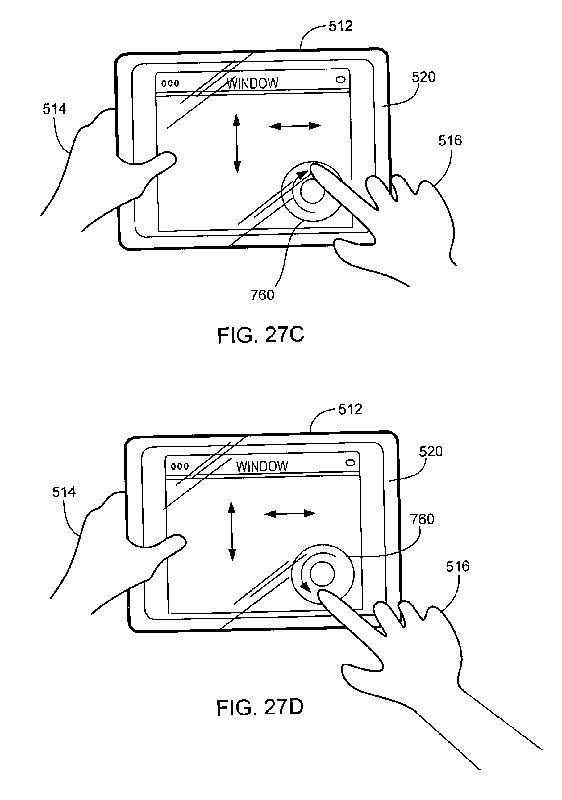 AppleInsider is supported by its audience and may earn commission as an Amazon Associate and affiliate partner on qualifying purchases. These affiliate partnerships do not influence our editorial content.
A patent granted to Apple on Tuesday describes the implementation of a "virtual scroll wheel" on a touchscreen device, possibly lending credence to years-old rumors that the company was looking to replace the iPod's physical touch wheel with a virtual on-screen representation.
Filed in 2005, Apple's U.S. Patent No. 8,239,784 for "Mode-based graphical user interfaces for touch sensitive input devices" is a continuation-in-part to a separate graphical user interface patent applications for gesture support on touchscreen devices such as zooming and on-screen object manipulation.
In the '784 patent, a virtual scroll wheel appears on the screen of a device, such as an iPod touch, when a user first makes contact with the touch-sensitive display. The virtual scroll wheel can then be manipulated by converting "swirling motion touch events" which in turn cycles through GUI elements like an iPod's playlist in much the same way the legacy physical touch wheel operated.
The patent covers both a transparent scroll wheel, complete with virtual select button at its center, and a means to dynamically move content away from the area of operation for easier user viewing. For example, a user would touch a device's screen and the virtual wheel would appear under the user's finger, shifting any GUI elements away. The patent also allows for the wheel to be resized and manipulated with one or more fingers like a "knob."
Illustration showing swirling motion input. | Source: USPTO
From the '784 patent summary:
The invention pertains to gestures and methods of implementing gestures with touch sensitive devices. Examples of touch sensitive devices include touch screens and touch pads. The invention also pertains to user interfaces and methods of implementing user interfaces with displays.
The invention can be implemented in numerous ways, including as a method, graphical user interface, computing device, or a computer readable medium.
Previous Apple patent filings sparked speculation that a virtual scroll wheel would be implemented in the then-unreleased iPod touch, though when the device debuted in 2007 it featured a linear scrolling UI devoid of "swirling motion" input.
While the original iPod touch's interface did away with the scroll wheel, it ushered in the multitouch iOS platform seen on all iDevices up to the iPhone 4S and third-generation iPad. Apple Senior Vice President of Industrial Design Jonathan Ive is credited as one of the patent's inventors.