Square deal with Starbucks highlights Apple's push to deliver Passbook in iOS 6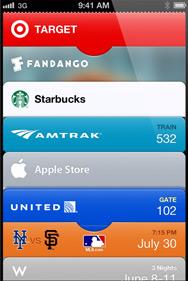 The partnership announced between Starbucks and credit card processing service Square underscores the potential demand for mobile device payments, lending some light into why Apple is promoting its new Passbook app as a key feature in iOS 6.
Square, co-founded by Twitter creator Jack Dorsey, was developed as a company to enable small business users to accept credit card payments.
The startup was originally based around a small hardware peripheral for reading magnetic strips on credit cards that plugged into the audio jack of iOS or Android devices. The device purposely avoided using USB or Bluetooth to skirt Apple's licensing rules that ask for a cut of transactions.
By plugging into the audio port, Square can deliver card reader data to the company's app as analog audio signals, exempting itself from Apple's fees and therefore offering small merchants the lowest transactions fees possible.
This spring, the company introduced Pay with Square and Square Register (shown below) features that enable customers to set up a tab with participating merchants and make payments via a barcode on their mobile device, or even just their name.
What Starbucks means for Square
Starbuck's vast global operations obviously has no need to rely upon Square for transactions, but the highly publicized partnership will give Square a lot of visibility and a large volume of transactions while also providing Square with a very popular merchant to accept its digital transactions.
According to a report by SplatF writer Dan Frommer, the deal won't install Square's mobile-based card readers or its iPad-based register offering; Starbucks will continue to use its existing card reading point of sale infrastructure.
Starbucks, says Frommer, is likely partnering with Square "to lap its competitors in customer experience and technology the way Apple has in electronics retail and Nike has in shoes," noting that Square has demonstrated "a particular focus on the customer experience that most other payments and software companies see as an afterthought."
Apple eyes digital payments with Passbook
Starbucks' chief executive Howard Schultz noted that around a million people each week are now paying for their lattes and Frappuccinos via their mobile device, accounting for about 2 percent of the chain's transactions. That indicates mobile purchases are already significant, but also have tremendous potential for growth.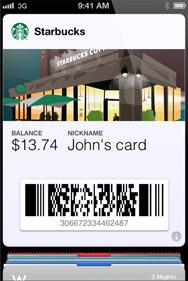 Like Starbucks, Apple has also been keenly watching mobile payments. This started within its own retail stores before the iPhone with third party, mobile point of sale devices, and has since moved to use the company's own iPod touch paired with a barcode and card stripe reader.
Apple has also expanded its transaction experiments to include mobile prepayments and register-free "anywhere in the store" transactions, something that Starbucks's CEO described as "highly complicated" and not well suited to Starbucks' food and drink business.
In iOS 6, Apple will introduce Passbook, a new app that enables merchants and ticket sellers to generate live, digitally signed electronic passes that are stored in a "digital wallet" app.
Existing merchants, like Starbucks, which already generate and accept barcode app-based payments can push their passes (and updates) to the Passbook app, creating a central repository for boarding passes, event tickets, retail coupons, gift certificates and loyalty cards.
In speaking with analysts, Apple's chief executive Tim Cook described Passbook as "an important feature of iOS 6," but added, "I wouldn't want to speculate about where it might take us," when asked for more detail on how the company plans to expand its digital wallet strategy in the future.