AuthenTec "Smart Sensor" appears key to Apple's urgent acquisition

Apple's urgency to gain access to AuthenTec technology, involving $27.5 million in up front payments during negotiations and culminating in a $356 million offer to acquire the entire company, appears targeted at an advanced "Smart Sensor" component that does more than just read fingerprints, but that's not all the acquisition target offered.
Apple's urgency to acquire AuthenTec was detailed in a Security and Exchange Commission filing.
However, that urgency is not explained simply in the interests of gaining access to fingerprint scanners, which have been in smartphones for years and in PCs for more than half a decade.
While the company has made acquisitions or intellectual property purchase deals simply to gain access to patents, the vast majority of Apple's recent acquisitions have been strategic deals to obtain the core technology behind what would become major marketing features of new products.
Since 2009, Apple has only acquired a dozen other smaller companies. A quarter of these highly selective, strategic moves involved mapping companies, resulting in the new Maps features that will appear in iOS 6.
Most of Apple's other known acquisitions were also rapidly converted into key product features, from Lala (which made its way into iTunes Match) to Quattro Wireless (iAd) to Polar Rose (camera face recognition), IMSense (iPhone HDR) and Siri. The rest involved processor and chip design firms that rapidly made their way into the silicon of iOS devices.
The most noteworthy public product AuthenTec has is not its run of the mill finger print scanners, but a new "Smart Sensor" that acts as a sophisticated touch pad controller.
While just 13.3mm wide by 3mm high and a scant 1.30 mm thick, the company's first Smart Sensor, announced in May just as Apple began its frantic efforts to buy the firm, packs a 500 pixel per inch, 192x8 pixel detection matrix and all the necessary finger print matching technology and security encryption to serve as a fully self contained finger recognizer.
AuthenTec notes that its "semiconductor-based sensors are based on both capacitive and radio frequency (RF) technology that detects an image of the fingerprint ridge and valley pattern beneath the surface of the skin, thus capturing sharp and clear fingerprint patterns from the live layer. This approach, which is in marked contrast with optical, thermal and other solutions that simply read the surface of the skin, gives AuthenTec sensors significant advantages in image quality and in the protective coatings that the sensor can image through."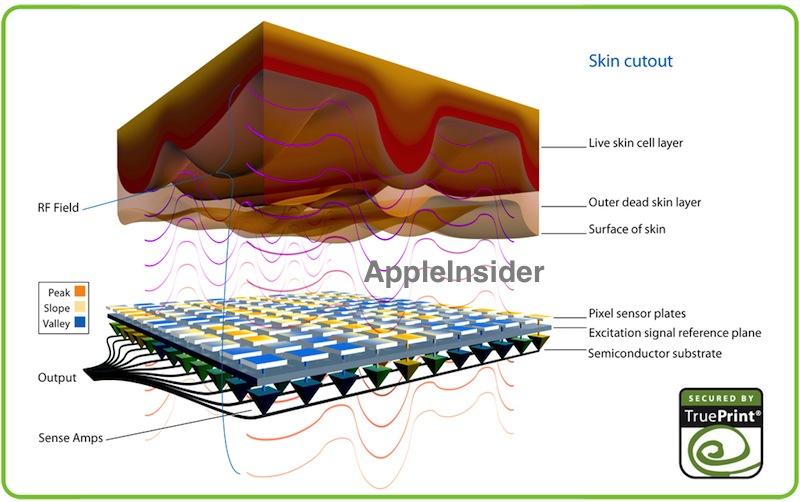 Additionally, AuthenTec has developed "anti-spoofing technology" that "dynamically measures the properties of finger skin placed on the sensor while the finger is being scanned. This patented technology ensures that only real fingerprints are read by converting the properties of the skin into digital data which are delivered to the host computer for analysis. AuthenTec anti-spoofing technology then compares the data with expected properties to ensure fingerprint authentication."
The company notes that "because of the approach, anyone who attempts to swipe the finger of a dead person in order to access important physical or logical data would fail."
A touch pad for iOS devices
However, in addition to basic fingerprint authentication (used to authorize a purchase or unlock the screen) the Smart Sensor is also capable of a variety of other touch-based features including personalization, or "the ability to associate different functions with different fingers."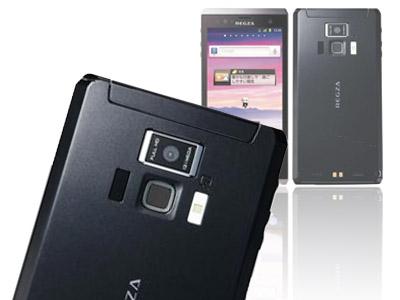 Other AuthenTech customers' devices, including the new Fujitsu Regza (above), have opted to put the Smart Sensor on the back of the phone next to its camera, but the size and shape of that particular component, labeled as the AES850 and called "the world's smallest authentication/navigation smart sensor in a durable package," appears capable of serving as an iPhone Home button.
This could allow Apple to supercharge its iOS Home button, enabling users to initiate different tasks (such as launching specific apps, Siri or Spotlight search; call a particular favorite contact; start a specific playlist or ask for directions to get home) with different fingers.
In addition, AuthenTec's Smart Sensor can also be used to provide touch-based navigation, functioning as a "precise cursor control for text editing," with support for "360 degree mouse navigation," "optical joystick emulation," or as a "unique turbo-scroll feature for rapid browsing of long emails, contact lists or websites," according to public information released by the firm prior to its acquisition.
In addition to a touch screen, or to replace it
While Apple's iPhone and iPad already have sophisticated touch screen for navigation, the addition of Smart Sensor could enhance the number of gestures users can easily perform by combining the two, similar to how mouse users coordinate the use of buttons with movement to perform a "drag and drop" operation.
For example, a user could perform a thumb swipe before scrolling in order to scroll twice as fast, when trying to navigate through a very long list. Or alternatively, swipe a particular finger to increase the sensitivity of a jog control to accurately step through a video one frame at a time.
AuthenTec's Smart Sensor could also be used to provide sophisticated touch controls on Apple's other products, such as the iPod shuffle and iPod nano, or to provide navigation on new devices without a screen at all.
AuthenTec's other offerings
In addition to its smart scanners, AuthenTec is also a fabless chip designer with a series of security processors and co-processors designed to accelerate authentication in VPN gateway products. The company also sells a QuickSec Mobile VPN client for Android, which is used by Samsung.
The company also develops IP cores for accelerating cryptography and encryption/decryption, features Apple could add to its System on a Chip designs to simplify and enhance the performance of iOS devices in handling HDCP (HDMI content protection) or integrating hardware acceleration of disk encryption, VPN services, app and iOS platform authentication (thwarting jailbreaks).
Some of AuthenTec's technology could also be incorporated into Apple's line of AirPort base stations to facilitate encrypted connections or implement securely shared base stations where anyone could opt to share their Internet connection to any nearby iCloud subscribers, for example.
This summer, AuthenTec collaborated with Alcatel-Lucent and Portugal Telecom to deliver a cross platform, live TV and video-on-demand service, with AuthenTec supplying the DRM. Apple could employ some of these same technologies to secure live TV distribution deals through its Apple TV product.
At the same time, Apple has also quickly abandoned technologies or products that were once strategic to its acquisition targets. When Apple acquired Emagic to obtain its Logic music product software, it simply canceled the Windows version that had previous accounted for half of the firm's sales.
Similarly, when Apple acquired PA Semi in 2008, it simply discontinued its primary product, a line of advanced PowerPC based PWRficient 64-bit SoCs, despite the products' recent debut.
Most recently, after Apple acquired mobile app search engine Chomp it simply dumped all support for Android apps, hardwiring its link to download the app to its own iTunes Store.
With Apple's acquisition still awaiting approval by shareholders, AuthenTec's website still makes mention of its Android product line. At the same time, it's likely that AuthenTec has granted licenses to its products and patented technologies that Apple could not revoke even if it were interested in doing so.