Apple closes at new high of $648 on rumors of iPad mini, Apple TV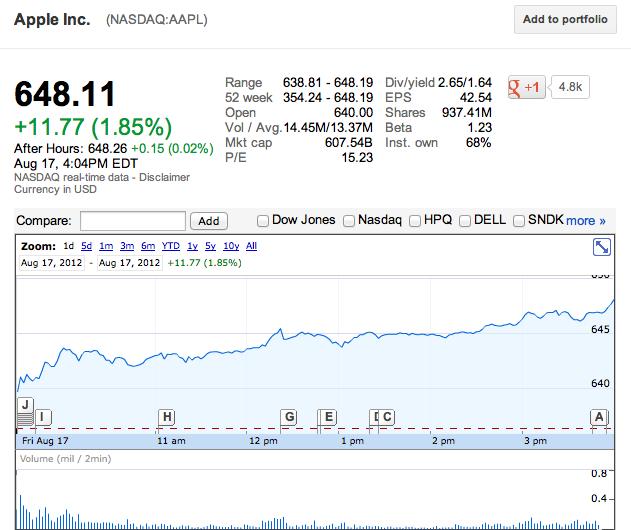 Apple stock surged upward before reaching an all time closing high of $648, boosted by continued rumors of both a smaller iPad and a new Apple TV capable of presenting live broadcasts.
Apple's stock rapidly escalated early in the year after the company announced the results of a blowout winter quarter with the launch of iPhone 4S. After April however, the stock headed downward, reaching a trough of $530.
The stock has only inched up slightly since, gaining ground after the company's most recent quarterly earnings were announced, but never regaining the momentum seen earlier in the year.
Yesterday, the company distributed $2.5 billion in cash to its shareholders as its first dividend payment since the late 1990s, but rather than seeing its market capitalization drop by the same amount, the company's stock valuation gained over $11 billion today, reaching $607.54 billion.
While it's impossible to accurately explain the often seemingly irrational movements in stock prices, the company seemed to benefit from rumors surrounding an expected iPad mini and new forays into living room entertainment with an enhanced Apple TV offering support for live broadcasts.
Both products could extend Apple's lead in the tablet and Internet set top box markets, both of which have very distant second place competitors.