Leaked image shows architecture plans for Apple's 'spaceship' campus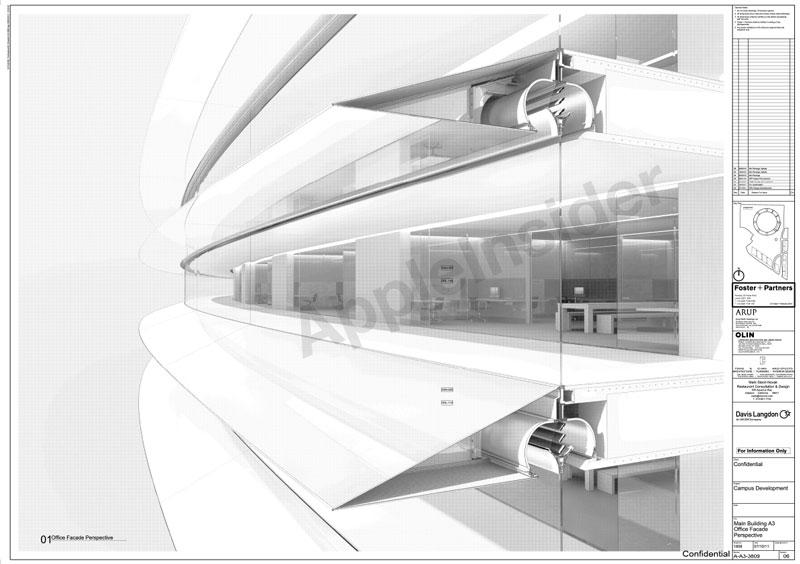 A new image purported to be from Apple's architectural team offers a closer look at the design of the company's planned "spaceship" campus in Cupertino, Calif.
The image provided to AppleInsider on Friday is labeled as "confidential" and identified as "Main Building A3 Office Facade Perspective." The project name is "Campus Development."
The design matches earlier images that showed an artists' rendering of what Apple's new mega-campus in Cupertino will look like. One of the defining features of the building will be its use of curved glass around the exterior.
Listed on the document are London architecture firm Foster + Partners, consulting engineering and designing firm Arup, landscape architecture company OLIN, and Davis Langdon, a construction company.
Apple CEO Steve Jobs first revealed the plans for the new campus last June at a Cupertino city council meeting, in one of his last public appearances before his death. He described the main office building as looking "a little like a spaceship landed."
The new corporate campus will be on roughly 150 acres of land it bought from Hewlett-Packard. Groundbreaking on the project is expected to begin later this year pending government approval.
The campus will hold more than 12,000 employees and will comprise 2.8 million square feet over its four stories. Also planned are a café and restaurant, fitness center and corporate auditorium with seating for up to 1,000 people on the grounds, while 300,000 square feet of research facilities will be built nearby.
With construction planned to begin this year, Apple hopes it will be able to open the doors on its new corporate campus in 2015.