Media camps outside Apple's Fifth Ave store as world awaits iPhone 5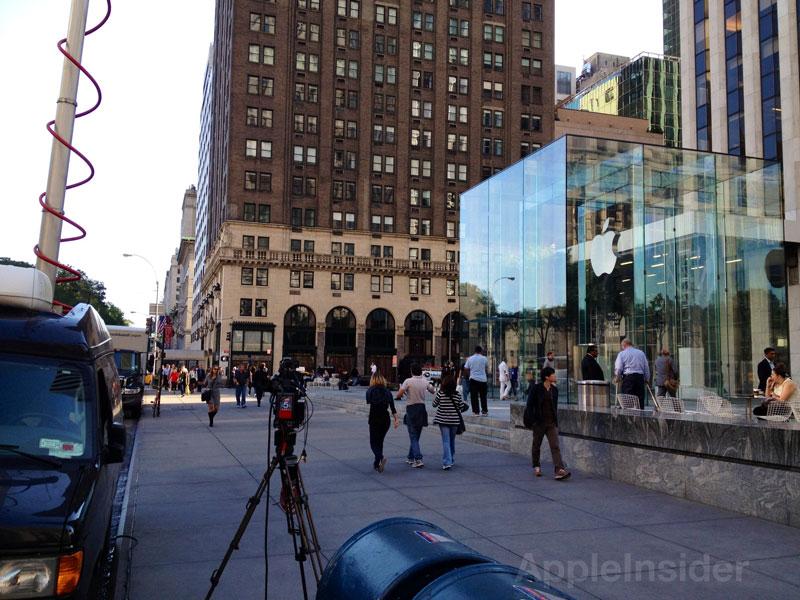 Apple's online store has gone dark ahead of today's product announcement in California while media gather at Apple's flagship retail store across the country in New York, as excitement builds for the company's next iPhone.

TV trucks assemble outside Apple's Fifth Ave. Store on Wednesday. Photo via AppleInsider reader Ryan.
Apple's Web store went offline early Wednesday morning, only hours before the company is set to kick off a media presentation at the Yerba Buena Center for the Arts in San Francisco, Calif. The company is widely expected to unveil the iPhone 5, a device with a larger 4-inch display and a redesigned exterior.
In New York City, Apple's flagship Fifth Avenue store has already become a gathering place for media looking to report on the buzz surrounding today's event. Inside the Fifth Avenue store, it's business as usual thus far, with no signs yet of any new products potentially going on sale immediately.
Beyond the next iPhone, Apple is believed to be prepared to introduce a number of new products this fall. Perhaps the most anticipated among them, a new 7.85-inch tablet known colloquially as the "iPad mini," is not expected to debut today. Instead, Apple is rumored to hold another media event in October to expand the iPad lineup.
However, Apple's own website mistakenly revealed earlier on Wednesday that the company plans to unveil a new iPod touch, iPod nano, and a new version of iTunes.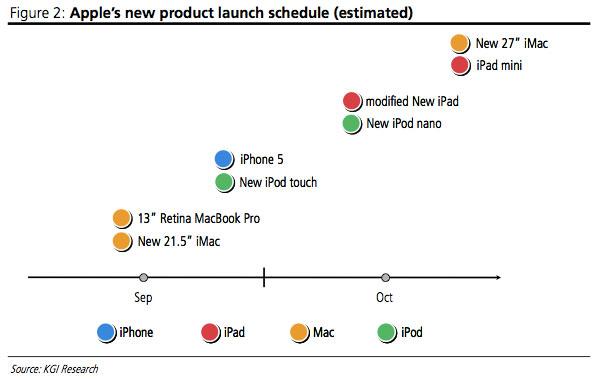 The new iPod touch is rumored to feature a taller 4-inch display, like the new iPhone. Analyst Ming-Chi Kuo said he believes it will feature a dedicated GPS receiver and a high-definition forward-facing FaceTime camera, and that it may act as a game controller for other devices like a Mac or iPad.
Apple is also expected to launch a redesigned iPod nano with a larger touchscreen and iOS-style home button, as well as built-in Wi-Fi and connectivity with iTunes. Kuo has said that product will debut in October, along with a new 27-inch iMac, and a modified third-generation iPad that will sport a smaller 9-pin dock connector.
No details are yet known about the new version of iTunes, including whether it will be called "iTunes 11" or something else. The last major update to the media suite for Mac and PC came in September of 2010 when iTunes 10 launched with the Ping social music network.
Beyond the new iPhone and iPod touch, Kuo has indicated that a new 13-inch MacBook Pro with Retina display and redesigned 21.5-inch iMac are strong candidates for a September release. This week it was said that Apple's over suppliers are now shipping the new finalized hardware. However, the leaked press release headlines on Apple's website did not indicate that new Macs will be launching on Wednesday, suggesting the new systems are likely to debut at a later date.