Apple on pace to sell 200 million iPhones in 2013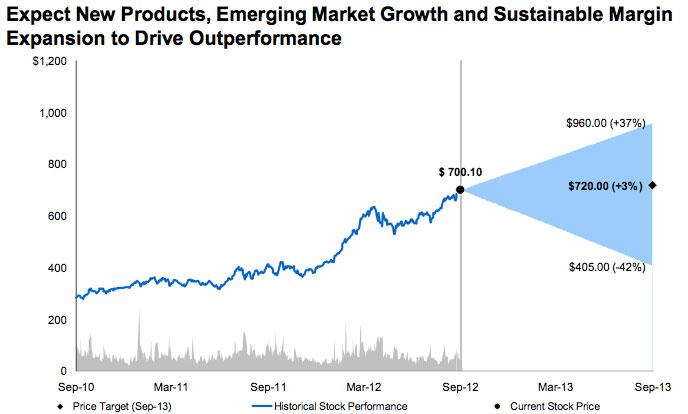 AppleInsider may earn an affiliate commission on purchases made through links on our site.
The strength of the iPhone 5 could help Apple buck seasonal trends in the first quarter of calendar 2013, setting the company up to sell more than 200 million iPhones next year.
Analyst Katy Huberty with Morgan Stanley sees Apple achieving that lofty sum after meeting with a supplier and distribution partner of Apple in Asia. She said both suppliers and carriers are bullish on demand for the iPhone 5.
Huberty sees Apple selling 25 million iPhones in the September quarter, which concludes this week, while she expects record shattering sales of 50 million iPhones in the December quarter. Even those numbers may prove conservative, she said, as Apple could see "significant upside if component constraints improve."
In particular, Huberty believes that China will be a meaningful catalyst for Apple, particularly if the iPhone 5 ships with carrier China Unicom in December. Her forecast calls for the iPhone 5 to debut on China Telecom in the first quarter of calendar 2013, while a partnership with China Mobile, the largest carrier in the world, could be reached in the second half of 2013.
China Mobile is said to be stocking up on nano-SIM cards that would allow customers to run the iPhone 5 on its network. And the iPhone 5 is compatible with TD-SCDMA and TD-LTE, but Huberty said it could take TD-LTE licensing agreements and broader number portability in order for a formal distribution partnership to be reached between China Mobile and Apple.
In her note to investors on Monday, Huberty also noted that the anticipated launch of Apple's so-called "iPad mini" is expected to lower average selling prices for the iPad lineup. She expects the new, smaller iPad to account for between 35 percent and 40 percent of total iPad shipments, reducing the average selling price of an iPad to $483 in the December quarter, and $468 in calendar 2013.
"While shipments should improve once the iPad Mini launches, we lower our near-term iPad shipments to consider the impact of the upcoming launch and potential wallet share shift to iPhone," she wrote.
Morgan Stanley has maintained its "overweight" rating for AAPL stock. Its price target is $720, though the company's "bull case" scenario calls for a price of $960. Huberty said Monday that if the initial success of the iPhone 5 carriers into 2013, she sees estimates moving toward Morgan Stanley's "bull case."