Apple actively courting TI employees as A6-rival OMAP chip put on ice

Texas Instruments, one of the largest ARM licensees designing chips for smartphones and other mobile devices, is opting out of mobile chips to focus on embedded platforms, even as Apple's A-series chip business grows and hires away TI staff.
As reported by the EE Times, TI announced earlier this week that it would shift its application processor chip business from consumer products like tablets and phones to embedded industrial markets such as automotive in a bid to stabilize sales and increase profits.
The company originally developed its OMAP (Open Multimedia Applications Platform) line of ARM "system on a chip" application processors in conjunction with handset vendors and historically sold the parts directly to phone makers, including Amazon, Archos, Motorola, Nokia, LG, Palm, RIM and even Samsung, which also builds its own chips.
However, the popularity of Apple's iPod, iPhone and iPad devices, which had already sent ripples through RAM markets and depressed sales of conventional hard drives, is now changing the market for application processors, too.
Little oxygen left in the room
Unlike most other phone vendors, Apple began designing its own custom ARM chips after the release of iPhone, incrementally acquiring a series of chip design firms (including PA Semi, Intrinsity, Anobit and AuthenTec) that has helped it build a series of increasingly customized SoCs named A4, A5, A5X and the new A6.
Apart from Samsung, which both designs and builds its own Exynos line of ARM SoCs, most phone and device vendors have bought off the shelf components, either TI's OMAP chips, Qualcomm's Snapdragon or Nvidia's Tegra. Intel is also marketing its own x86-compatible Atom chips.
Compared to Apple's blockbuster iOS device volumes, TI's OMAP chip customers have suffered a series of notable sales disappointments, including the Amazon Kindle Fire, Palm Pre, RIM BlackBerry Playbook, Motorola's Xyboard tablet and MOTOACTIVE music player, Nokia's N9, Google's Nexus Q and Galaxy Nexus.
Given its plans to exit the consumer-oriented smartphone and tablet chip market, it appears TI's next generation OMAP5, built around the ARM Cortex-A15 core design, may never make it to market. OMAP5 was in the running with Samsun's Exynos 5 to become one of the first chips to use the Cortex-A15 design.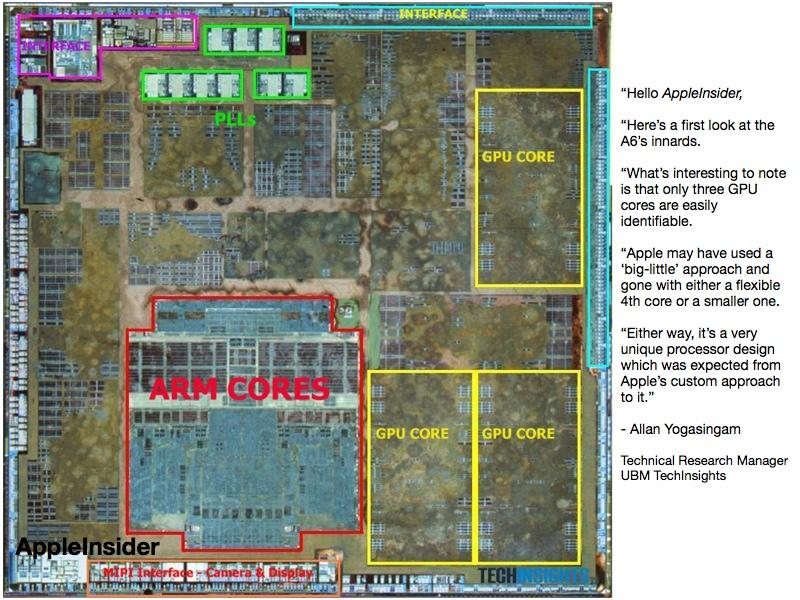 Apple's release of the new A6 (pictured above), which incorporates some technologies of the Cortex-A15 core without using as much power, may likely have had a impact upon TI's future prospects, given the difficulty of finding high volume sales for the new fifth generation OMAP design.
Apple's big investments in silicon design
The task of keeping up with Qualcomm's range of "off the shelf" chips and competing head to head with Nvidia for a market that is increasingly being dominated by Apple and Samsung (who both develop their own application processors) is increasingly pinching the opportunities for companies like TI that develop new parts they hope third parties can sell in their products.
Apple's essentially guaranteed high sales volumes have allowed the company to invest millions of dollars to create custom, mass production designs with proprietary features (including support for sophisticated noise cancelation in the A5 that powered Siri last year) while getting rid of unused silicon that would otherwise have a negative impact on battery life. The company also has multiple tiers of products that allow it to use volumes of slower parts and get long lifespans out of new generations of chip designs.
Apple has been actively courting experienced employees at TI to help design and support its internal A-series chips. Unlike TI, which had to account for significant overhead with its chip clients related to managing documentation and support for various OMAP chips and features, Apple is the only consumer of its internally designed A-series chips. That frees the company to focus on building only what it wants and needs, and it doesn't have to communicate with third parties about the intricacies of how its silicon works.
Apple's growing staff of A-series chip developers work in top secrecy near the company's Infinite Loop campus, and recently found out that they will not be among the groups moving to the company's new "spaceship" Apple Campus 2 now in the construction planning phase.