Apple seeks patent for Siri automated assistant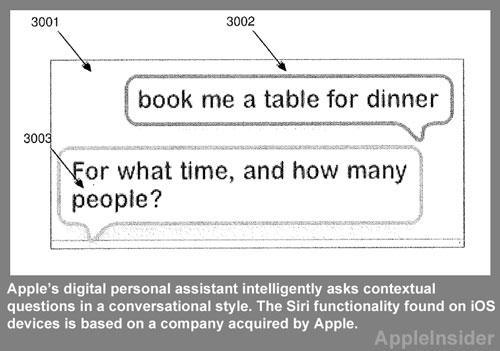 Apple is seeking ownership of the technology and features that drive its voice-controlled Siri personal assistant found on iOS devices.
The company's extensive 51-page application with the U.S. Patent and Trademark Office is entitled "Intelligent Automated Assistant." The patent application continuation, discovered this week by AppleInsider, describes a system that "engages with the user in an integrated, conversational manner using natural dialog, and invokes external services when appropriate to obtain information or perform various actions."
The filing describes many of the already established features of the software, and includes screenshots of the original iPhone application that Apple acquired.
Among the inventors listed on the application is Dag Kittlaus, one of the co-founders of the original Siri company that Apple acquired. Kittlaus left Apple last year after the iPhone 4S launched and debuted Siri.
In the application, Apple notes that complex smartphones have multiple applications each with their own user interface, which can be "burdensome to learn or overwhelming for users."
"Many users may have difficulty even discovering what functionality and/or information is available on their electronic devices or on various websites," the filing states. "Thus, such users may become frustrated over overwhelmed, or may simply be unable to use the resources available to them in an effective manner."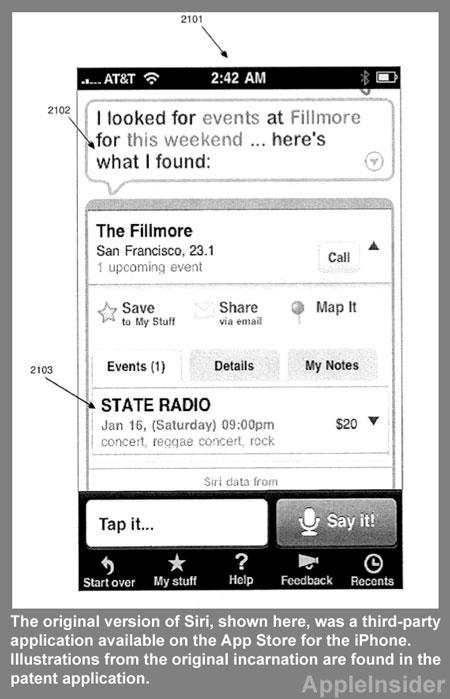 Apple's solution is a personal assistant that talks to users in a conversational style, and can engage with the user in the form of speech, graphics, and text entry.
In one example, a person on a phone call would tell Siri to "send him a text message." The system would intelligently determine that the user is referring to the person they are currently on the phone call with.
A list of categories where Siri could present information detailed in the application includes local services, such as nearby businesses; personal and social memory services, like notes and calendar events; e-commerce, including online purchases of books or DVDs; and travel services, such as flight or hotel information.
Published by the USPTO this week, the filing was first made by Apple in June of this year, and is a continuation of a patent filing made in January of 2011. Other associated patents date back as far as 2006. In addition to Kittlaus, the proposed invention is credited to Thomas Robert Gruber, Adam John Cheyer, Didier Rene Guzzoni, Christopher Dean Brigham, Richard Donald Giuli, Marcello Bastea-forte, and Harry Joseph Saddler.