Apple's Lightning authentication chip may have been reverse engineered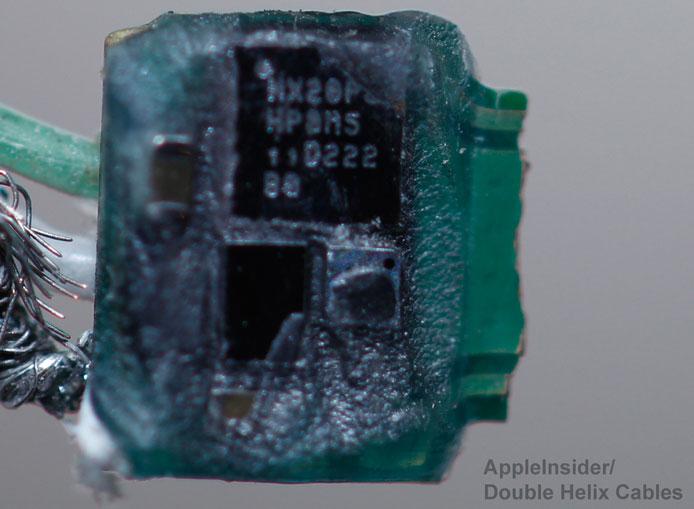 An unauthorized accessory maker has promised that products cloning Apple's new Lightning cable are on their way, thanks to reverse engineering.
New Lightning cables and accessories from iPhone5Mod, including a light-up cable and docking station, were highlighted on Tuesday by MIC Gadget. The unauthorized reseller claims that its new cable "fully supports iTunes, Data Sync, Battery Charging for iPhone 5 and even supports all future iOS upgrades."
The site even has a video promoting its new light-up cable and docking station, showing them being used to charge and sync an iPhone 5 plugged into a MacBook.
AppleInsider was first to report last month that presumed authentication chips were found inside of Apple's new Lightning connector. The discovery of the chips was seen as a warning to customers not to buy unauthorized third-party accessories, as they were not likely to be compatible with the iPhone 5 and other Lightning devices.
In fact, Chinese suppliers were said to be still working on cloning the chips found in Apple's Lightning cable, but it wasn't expected that compatible unauthorized devices would become available for sale for months at the earliest.
However, the video and information posted online on Tuesday suggests that at least one company was able to reverse engineer Apple's new Lightning cable faster than was expected.
Some unauthorized third-party Lightning devices quickly appeared on sites like Amazon and resellers like Alibaba.com after the iPhone 5 and Lightning connector were announced. But estimated shipping dates were progressively pushed back s companies were not able to create their own knock-off Lightning accessories.
Official Lightning accessories sanctioned by Apple are expected to hit store shelves this holiday season. Devices have been delayed from hitting the market because Apple is said to have made "significant changes" to its "Made for iPhone" accessory rules.
The new Lightning cable is 80 percent smaller than its predecessor, allowing Apple to make its devices even smaller than ever. It also dynamically reassigns its pins to allow the cable to be inserted into devices like the iPhone 5 in either of two orientations.