Exclusive: 'iPad mini' part numbers reveal Apple plans 12 configurations in two colors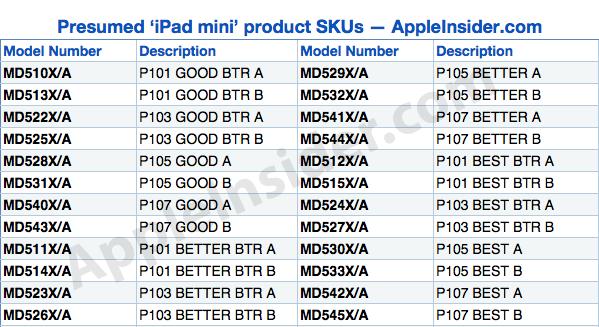 Apple next week is set to launch a new, smaller iPad in 24 different configurations, suggesting four different storage capacities and two color options, AppleInsider has learned.
The full list of presumed "iPad mini" product stock-keeping units, or SKUs, shows a total of 24 varieties. Four different models will be offered — described as P101, P103, P105 and P107 — which one person familiar with the inventory said likely signifies four different storage capacities.
The lineup could suggest that Apple plans to introduce an 8-gigabyte model that would serve as an entry-level model for the lower-priced 7.85-inch iPad. Currently, the full-sized iPad does not come with a storage capacity lower than 16 gigabytes.
Each of the four different product descriptions also come with three different distinctions: "GOOD," "BETTER," and "BEST," which could signify Wi-Fi-only, 3G, and 4G LTE models, respectively. Each model is also available in "A" and "B" variants, which likely identify color options of black and white.
One person familiar with Apple's product inventory said the company's initial shipments suggest availability of the presumed entry-level "P101" model will be the greatest at launch. An inventory list that surfaced from a retailer last weekend suggested an entry-level 8-gigabyte model could cost around $249.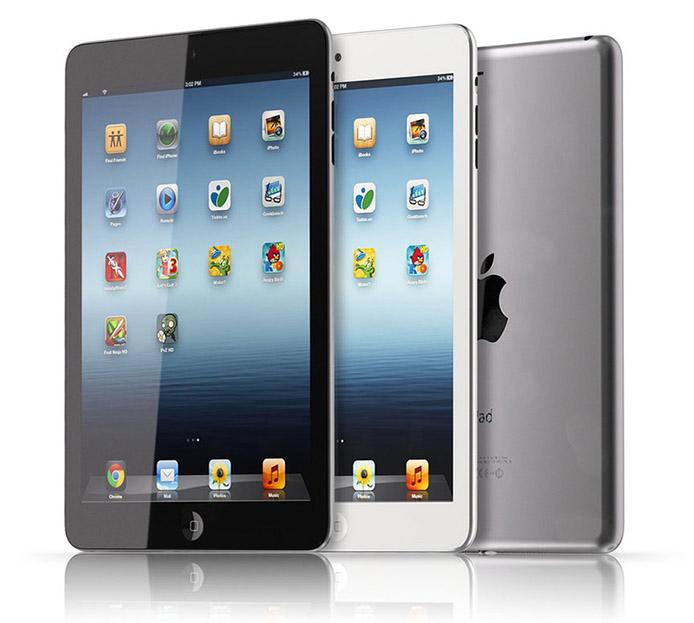 "iPad mini" rendering by Martin Hajek
The person also added that Apple is rumored to begin selling new iMac desktops on Oct. 24, one day after the anticipated Oct. 23 event. In addition to the iPad mini, Apple is also expected to unveil a new 13-inch MacBook Pro with Retina display, but no timeframe on its availability was given.
Apple is expected to officially announce its Oct. 23 media event this afternoon. AppleInsider will have full coverage.