Some iPhone 5 users report incorrect automatic date and time settings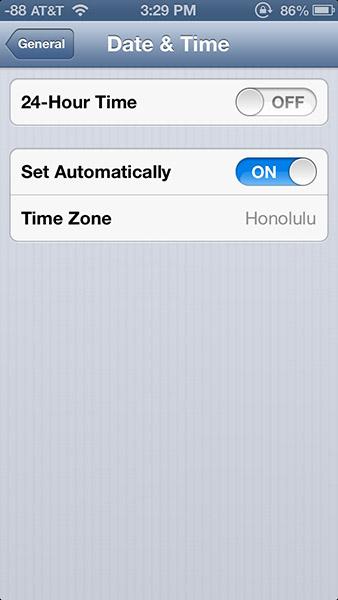 AppleInsider may earn an affiliate commission on purchases made through links on our site.
A number of iPhone 5 owners, especially those on U.S. network Verizon, are complaining of an issue where the incorrect day and time is displayed, sometimes jumping weeks ahead or behind the actual date.
According to multiple posts on Apple's Support Communities forum, a number of iPhone 5 users are experiencing what appears to be a problem with the handset's automatic date and time setting feature.
It is suspected that the issue may lie in the handset's compatibility with Verizon's network, as most of the reports on the 21-page thread come from that carrier's subscribership.
The bug was initially reported on Sept. 24, the iPhone 5's first day of availability, and subsequent posts citing similar timing-related difficulties have been streaming in ever since. There have been no reports of time-shifting with other iPhone models, including those upgraded to iOS 6.
While the exact cause of problem is unknown, speculation points to a bug with how the timing code embedded in Verizon's CDMA cell network is handled.
In order to operate properly, all CDMA cell towers transmit a time signal based on data from an on-site GPS receiver, allowing the network to stay in synchronization. It is possible that either Apple's handset is somehow misinterpreting the time signals, or timing data from certain Verizon cell towers is faulty, though at this point the theories are mere conjecture.
Forum members say both Apple and Verizon are aware of the iPhone 5's time-shifting issue, however no clear remedies were offered to the few who contacted the companies' customer support staff. Some have found limited success in performing a factory reset, but the method is not a sure-fire solution.
It appears that each party is placing blame on the other, further confusing the situation. Apple forum member "dtenberge" claims to have been contacted by a "Senior iOS Advisor" who said, "I just got a response from our Engineers, at this time we cannot see anything wrong on our end, they did suggest that you contact Verizon and open up a "ticket" and have them look into it."
Another member, Janine Costanzo, said, "We just called Verizon, and they said they've had some reports of this problem, but it's nothing on their end. They checked the cell towers in our area (SF Bay Area) and the time is right on them. They said it's likely a software issue on Apple's end, so we should call Apple and tell them the problem and hope that they release a software fix for it."
AppleInsider reached out to both Apple and Verizon for comment, but the companies did not immediately respond.