Parallels Desktop 8 update enhances support for Windows 8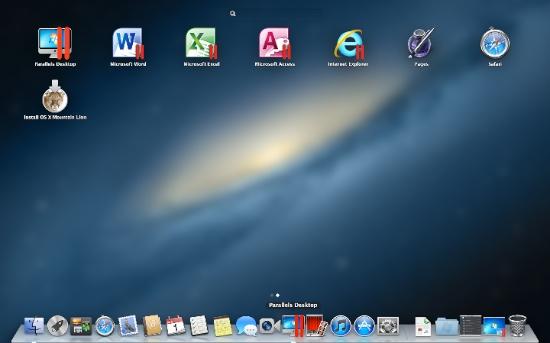 Parallels Desktop 8 for Mac has been updated with expanded support for Microsoft's newly released Windows 8 operating system.
The update to Parallels Desktop 8 for Mac allows Mac users to access Windows 8 tablet gestures and use a Windows 8 interface tile to access shared Mac apps. The updates also enable people to use Mountain Lion's Dictation feature in Windows applications.
Users can also add Windows applications to Launchpad on the Mac dock, and software will also take advantage of the Retina display on Apple's 13- and 15-inch MacBook Pros.
"Parallels Desktop 8 for Mac on a MacBook Pro with Retina display is one of the best ways to run Windows 8," said Laura DiDio, Principal, Information Technology Intelligence Consulting. "It enables people to experience Windows 8 on a Mac with the most vivid Retina resolution of 2880-by-1800 pixels, but with more readable text and graphics.
"Parallels Desktop 8 delivers excellent interoperability between the Windows and Mac environments, and empowers users to choose the amount of integration between Windows 8 and Mountain Lion that best suits them."
Parallels Desktop 8 for Mac costs $79.99 for new customers, $39.99 for students, and $49.99 for owners of previous versions. A free trial is also available, as well as the $99.99 "Switch to Mac Edition" for current Windows users.
The full list of new and expanded features, according to Parallels, are:
Support for Windows 8 tablet gestures
Addition of a single tile to the Windows 8 interface for easy access to shared Mac apps
Full USB 3.0 support for faster connections to peripheral devices
Updated Retina display settings for easier screen optimization
Smooth transitions when entering and exiting Coherence mode
Increased virtual machine limits for running large appsPreviously available Parallels
Previously available features with Windows 8 and Mountain Lion are
Sticky Mouse for Windows 8: When running in window view mode and slowly crossing the border of Windows 8 and Mountain Lion, the Sticky Mouse feature of Parallels Desktop 8 causes the mouse to stop at the border so you can simply move it to the last pixels in the corner of Windows 8 to access the Charms, Start and other menus or pages
Use Mountain Lion's Dictation in text-based Windows apps
Windows 8 apps can be added to Mac Dock and to Launchpad
Open in Internet Explorer (IE) button added to Safari launches the Windows 8 IE browser to quickly access a website that requires IE
Mountain Lion Notification Center: Parallels Desktop 8 integrates Window 8 Toast Notifications into the Mountain Lion Notification Center so users in Mountain Lion can receive messages from Windows 8 and its calendar, games, Internet Explorer, mail, messaging, music, store and video plus all new applications that support Windows 8 Toast notifications
Windows 8 applications in Full Screen and Mission Control
Desktop and Windows 8 applications are searchable in Spotlight
Launch Windows 8 applications while in Coherence mode
Windows 8 running in window view mode at low resolution (less than 1024x768) is scaled, so Windows 8 apps still can be started on a 13-inch MacBook Pro or MacBook Air and 11-inch MacBook Air when using Windows 8
Windows 8 user interface and desktop applications on a Retina display are readable with the "Best for Retina" option enabled, making high-resolution text more readable
AppleInsider has affiliate partnerships and may earn commission on products purchased through affiliate links. These partnerships do not influence our editorial content.