Apple reportedly paid $21M to use Swiss Railway clock design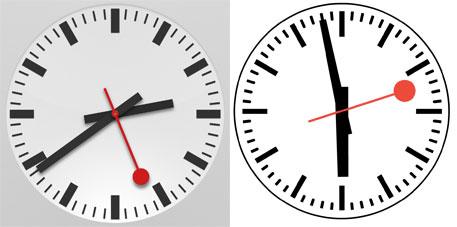 AppleInsider may earn an affiliate commission on purchases made through links on our site.
A report on Saturday claims that Apple paid some $21 million to license the iconic clock-face used in its most recent iOS 6 mobile operating system, a design made famous by the Swiss Federal Railway's train station clocks.
According to global news agency AFP (via CNET), Apple reportedly agreed to pay a "lump sum" of $21 million to the railway service, known as SBB, for rights to the clock design seen in iOS 6 on the iPad.
The original clock-face was designed by SBB employee Hans Hilfiker in 1944, and has been recognized by the Museum of Modern Art in New York and the London Design Museum as an iconic example of 20th century design.
It was reported in September that SBB found Apple's use of the design objectionable, and said the two companies would "talk about" reaching some sort of agreement. The Swiss rail service denied reports that it was demanding compensation, and instead said it was proud that a company such as Apple chose to use the design.
"It's not just about exchanging money, rather drawing up a contract stating where the logo can be used, under what conditions and for how long," SBB spokeswoman Patricia Claivaz said at the time.
In mid-October, it was announced that the two parties had reached an agreement, though the terms of the deal were meant to be kept secret.