AppleCare pulled from Italian stores over antitrust flap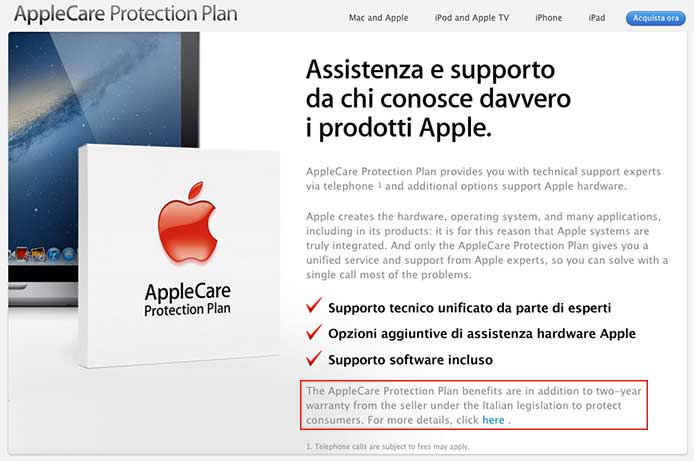 Apple confirmed on Tuesday that it has stopped selling its AppleCare extended protection plan in its Italian stores, and cut off distribution to authorized resellers, in response to continuing antitrust concerns associated with EU warranty laws.
The sales halt has been in effect since Nov. 9, an Apple spokesman told Reuters, leaving customers in Italy unable to purchase the AppleCare Protection Plan (APP) in Apple Stores or reseller locations.
Apple's extended protection plan is still available through the company's Italian website, where a carefully worded disclaimer notes the product's "benefits are in addition to two-year warranty from the seller under the Italian legislation to protect consumers." EU law mandates that goods sold in the region come with a standard two-year warranty.
In December, the Cupertino-based company was hit with a 900,000-euro fine, nearly $1.2 million at the time, from the Italian Antitrust Authority for not providing consumers with information regarding their EU-protected warranty rights. Apple allegedly pushed the optional APP on consumers by misrepresenting the for-pay warranty, as well as not clearly stating the EU mandates on its retail packaging. A disclaimer was finally added to the boxes following an unsuccessful appeal of the ruling in March.
It was reported in July that Italy's AGCM competition and marketing authority threatened to shut down Apple's Italian operations for 30 days, plus add on to the original fines, as it found the company to not have fully complied with the earlier order. Apple contested the claims, and talks are ongoing.
Piling on to Apple's woes, two consumer advocacy groups launched a class action lawsuit in October, alleging the company continues to violate EU laws.
The AppleCare service can run anywhere between $29 for an Apple TV, to $349 for the latest MacBook Pros. Apple recently began the AppleCare+ service, a $99 option for the iPhone and iPad that offers an extra two years of coverage, including up to two incidents of accidental damage which are fixed for a flat fee.