OS X 10.8.3 beta supports AMD Radeon 7000 drivers, hinting at Apple's new Mac Pro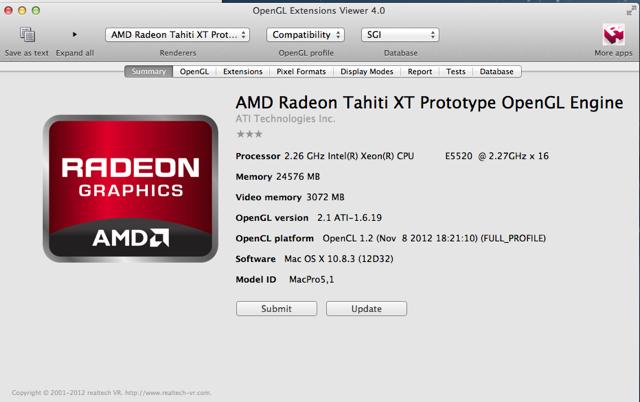 Apple's first beta of OS X 10.8.3 has quietly added support for the AMD Radeon HD 7000 series of graphics cards, hinting that they could be featured in the company's designed Mac Pro desktop.
Support for the AMD Radeon HD 7XXX series was discovered by Netkas.org this week, following the launch of the first beta of OS X 10.8.3. Specifically, the Mac operating system supports the Radeon HD 7900 series, codenamed "Tahiti," which includes the Radeon HD 7970 and 7950.
Both of those cards feature 3 gigabytes of GDDR5 memory, and are based on a 28-nanometer chip manufacturing process. The cards are the first products to feature AMD's "Graphics Core Next" compute architecture.
Support for the dedicated desktop graphics card series could signal that AMD's latest GPUs may be headed for an updated Mac Pro. Apple's lone tower computer was quietly updated in June with a modest speed bump featuring a two-year-old Intel Xeon E5645 chip.
After users expressed frustration over that update, Apple Chief Executive Tim Cook quickly confirmed that his company was working on an overhaul of the Mac Pro. He indicated that the updated desktop would be released sometime in 2013.
"Don't worry as we're working on something really great for next year," Cook said to a customer in an e-mail. An unnamed executive also indicated to The New York Times that an updated Mac Pro was on pace for release next year.
Signs of a sixth-generation Mac Pro appeared in internal configuration files found in the Mountain Lion operating system earlier this year. The "MP60" is expected to be a significant overhaul of the current Mac Pro model, which has had the same basic aluminum box design introduced for the 2005 PowerMac G5.