Apple takes number two spot behind Samsung for all US mobile marketshare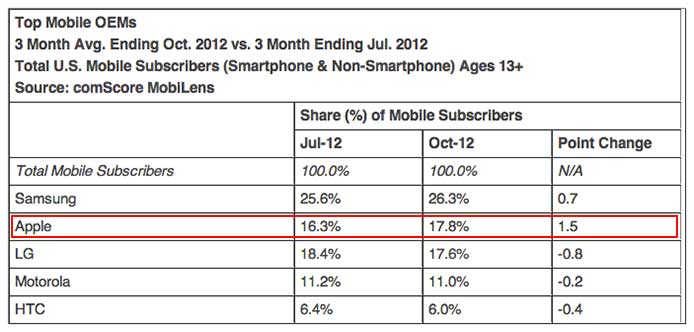 AppleInsider may earn an affiliate commission on purchases made through links on our site.
For the first time since market analysis firm comScore began tracking mobile phone use in the U.S., Apple has taken the second place spot overall, exhibiting positive growth to edge out LG while nipping at the heels of leader Samsung.
According to data from the comScore MobiLens service, Apple jumped from third place at the end July to second place three months later, garnering a 17.8 percent share of the U.S. smartphone market while LG fell to 17.6 percent.
Overall, Apple's iPhone saw the highest level of growth with a 1.5 percent positive change over the three months ending in October as three of the top five phone makers saw declines, with LG, Motorola and HTC losing 0.8 percent, 0.2 percent and 0.4 percent of the U.S. market, respectively. Top brand Samsung saw gains of 0.7 percent, meaning Apple's handset lineup more than doubled the performance of the South Korean company's combined growth in smartphones and feature phones.
At the end of the three month period, Samsung was still the market's dominant player, and held well over one-fourth of all U.S. mobile users with 26.3 percent. Following Apple's 17.8 percent share of all mobile subscribers was LG with 17.6 percent, Motorola with 11 percent and HTC with 6 percent.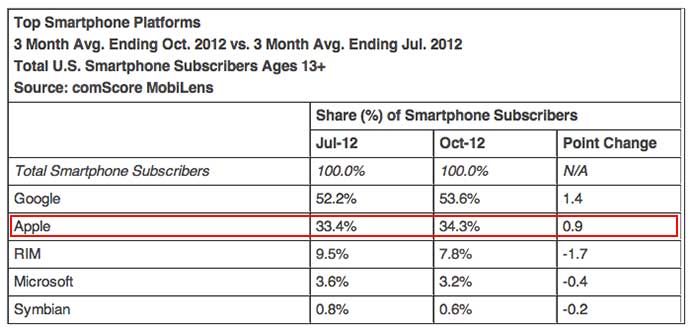 In general, the consumer shift toward smartphones continued during the three months as some 121.3 million people owned a handset by the end of October, which represented a 51.9 percent penetration of the mobile market. Google's Android was once again the top performer, mirroring similar worldwide numbers, and finished with 53.6 percent of the U.S. market, up 1.4 percent from July. Apple's iOS managed 0.9 percent growth during the same period, bringing its share of the market to 34.3 percent. Continuing its steep fall, RIM lost 1.7 percent of the smartphone base and now stands with a 7.8 percent share, followed by Windows Phone and Symbian, which managed to eke out a 3.2 percent and 0.6 percent share, respectively.