Apple's iPhone grew to 25.1% global market share in 2012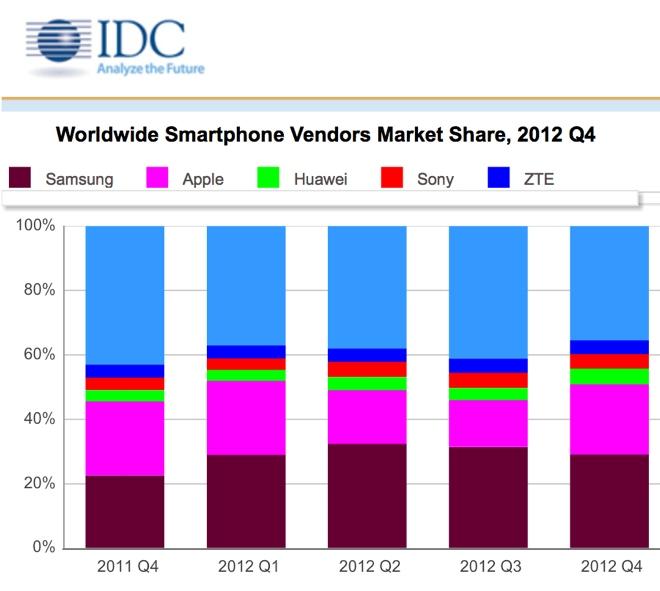 The latest worldwide smartphone data from IDC reveals that Apple's worldwide market share grew to 25.1 percent in 2012.
Apple's total iPhone shipments increased 46.9 percent last year, from 93.1 million handsets in 2011 to 136.8 million in 2012.
Controlling a quarter of smartphone shipments, Apple was squarely in second place worldwide, in a two-horse race with market leader Samsung — the only other company among the top five vendors that managed to grow its share.
Samsung easily outpaced Apple in 2012, growing its shipments by 129.1 percent, more than doubling Apple's year-over-year growth. Samsung also saw its market share grow from 19 percent in 2011, when it was in a dead heat with Apple, to 39.6 percent in 2012, or nearly 15 percentage points ahead of Apple.
In third place, Nokia continued its tumble, losing 54.6 percent of its shipments from 2011. The Finnish handset maker represented just 6.4 percent of smartphone shipments in 2012.
HTC took third, off 25.2 percent from 2011, which was good for a 6 percent share in 2012. That tied it with Research in Motion, which also had a 6 percent share after its shipments slid by 36.4 percent.

Looking at the fourth quarter alone, IDC's data suggests the gap is widening between Samsung and Apple in terms of shipments. Apple already announced this week that it shipped 47.8 million iPhones in the holiday quarter, and IDC's data found that was a 21.8 percent market share — a number actually down from the 23 percent share Apple held in the fourth quarter of 2011.
Samsung, meanwhile, shipped 63.7 million smartphones in the holiday quarter, and its overall market share grew from 22.5 percent in the fourth quarter of 2011 to 29 percent in the same period in 2012.
The rest of top five also signal a changing of the guard began at the end of 2012, as Nokia, RIM and HTC are absent, replaced by low-cost players like Huawei and ZTE.
IDC found that Huawei grew its shipments 89.5 percent year over year to 10.8 million, good for 4.9 percent of the market in the fourth quarter. In fourth was Sony, which surged 55.6 percent and took 4.5 percent of the market. And ZTE took fifth, growing 48.4 percent and capturing 4.3 percent of the market.
IDC's data contrasts with Strategy Analytics, which also reported its own market share data this week. Strategy Analytics found that Apple's market share was just 19.4 percent in the 2012 holiday quarter, up from 19 percent in the fourth quarter of 2011.