Rumor: Apple's low-cost iPhone to have 4" screen, mostly plastic body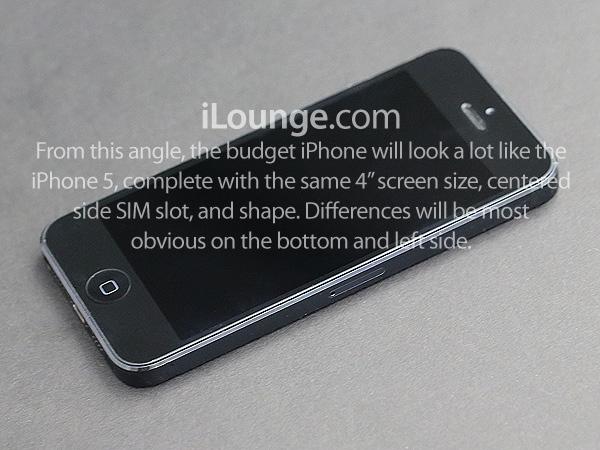 The rumored low-cost iPhone from Apple will feature a largely plastic body that will be noticeably thicker than the iPod touch, according to a new report.
Budget iPhone mockup, via iLounge.
Purported details on Apple's anticipated "budget" iPhone were reported on Monday by Jeremy Horwitz of iLounge. Citing people apparently familiar with the design of the device, he said it will feature a 4-inch display like the iPhone 5, but will also borrow some design elements from the latest iPod touch, and even the company's legacy iPod classic.
The low-cost iPhone will reportedly be "just barely" larger than the iPhone 5, measuring a millimeter thicker. While it will look nearly identical to the iPhone 5 from the front, differences are said to be more noticeable on the side of the device.
"The circular volume buttons of the iPhone 4, 4S and 5 will shift to elongated, pill-shaped designs closer to the iPod touch and the iPhone 3G/3GS," Horwitz wrote. "Apple's budget housing looks closest to the iPod classic in shape, though not in materials."
The curves of the cheaper iPhone will reportedly "start and end at flat surfaces" like the iPod classic, rather than the curved back featured on the iPhone 3G and iPhone 3GS.
Like the new iPod touch, the screen on the low-cost iPhone will reportedly stick out slightly from the device. But unlike the fifth-generation iPod touch, the camera lens will not protrude from the back of the body.
"The budget iPhone will look a lot like an iPhone 5 from the front, an iPod classic from the side, and an iPod touch 5G on the bottom — only made from plastic rather than glass or metal," Horwitz wrote.
The same sit reported last week that Apple's less expensive plastic iPhone, geared toward emerging markets, will launch later this year. Reports first began to surface earlier this month indicating that Apple is planning to build a cheaper iPhone intended to target countries like China.
Market watchers have predicted that Apple could sell a cheaper iPhone for around $199 without a contract subsidy. At that price point, it's projected that Apple could attain gross margins around 30 percent.
Currently, Apple's cheapest smartphone option is the iPhone 4, which is available for $450 without a contract in the U.S. But the price on that same handset moves up to $490 in China and $750 in Brazil when local taxes are added.