After 500px App Store flap, Tumblr update warns users of age-restricted material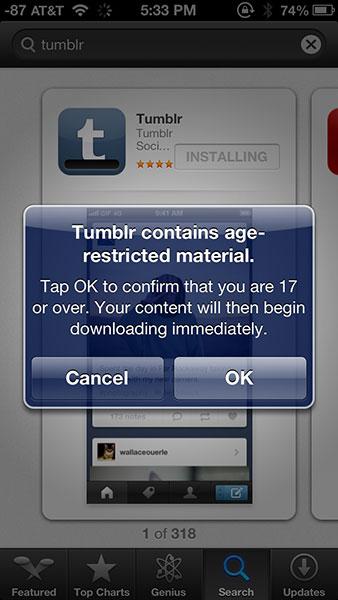 iOS app developers are seemingly taking notice of the trouble picture-sharing app "500px" faced earlier in January, as App Store veteran Tumblr is now warning users of possible exposure to adult content with its latest update.
As noted by The Verge, users downloading Wednesday's release of Tumblr version 3.2.4 were met with Apple's "age-restricted material" pop-up box, forcing them to confirm that they were over the age of 17 before installing the app.
While the update's release notes only mention "small bug fixes," the 17+ content warning was a definite change as seen in a cached version of the Tumblr version 3.2.3 iTunes Preview page.
It is unclear whether Tumblr was asked by Apple to make the change or did so proactively in light of a recent kerfuffle over artistic nude photographs in the popular image-sharing apps 500px and ISO500. In that case, the app, which has been available for over 16 months, was flagged for violating App Store policy before being pulled. 500px returned to the App Store on Tuesday with an adult-content warning.
Apple's policy clearly prohibits the distribution of nude or pornographic material through the App Store, meaning any app that has access to the internet or certain adult themed blogs should carry the 17+ rating. Only certain apps are affected by the rule, however, as evidenced by Tumblr's app which had until today gone untouched.
Adding to the issue is the new Twitter-owned app Vine, a short video sharing service that allows users to record and post six-second clips to the internet. The app was featured as an App Store "Editors' Choice" until it was discovered that hardcore pornography could easily be found through the service's hashtag search function. Vine, which ironically carries the subtitle "Make a scene," is still available in the App Store without an adult content rating.