Apple secretly developing entire platform for wearable, attachable computing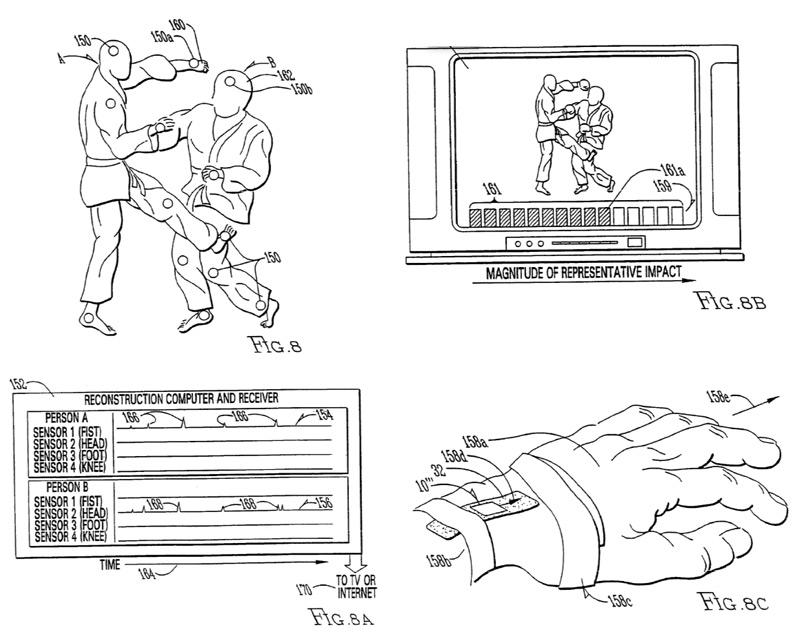 As rumors swirl over the potential for a so-called iWatch from Apple in the not-too-distant future, the company is secretly developing an entire wearable/attachable computing platform and ecosystem comprised of wireless sensing systems for monitoring not only sports activity, athletic training, medicine, fitness, and wellness in humans, but also for tracking packages and industrial production.
AppleInsider first touched on the subject nearly three years ago when it discovered a sprawling 83-page patent filing granted to the company that covered a series of wireless sensing systems aimed at quantifying actions or events that can currently be measured only qualitatively, such as the effectiveness of a karate kick or what exactly happened to a package from FedEx that arrived with its contents broken. Industry watchers could think of the technology as a series of Nike FuelBands for nearly all aspects of motion. (See: Apple exploring wireless system for quantifying the unquantifiable).
Since then, Apple has continued to refine the provisional filing, and on Tuesday was awarded the rights to a continuation of the now divisional patent application under the title "Personal items network, and associated methods." It makes references to dozens of earlier filings, including several from the company itself dating back to 2001.
Movement Monitoring Devices
A couple of wireless monitoring devices are critical to Apple's concept, the first of which is called a movement monitor device, or "MMD." The company says these tiny transmitters can take the form of an adhesive strip similar to a bandage and include a processor, a detector, communications port, and battery. Alternatively, they could assume the form of a credit card and/or include a magnetic element for adhering to metal objects. In any of the cases, they'd ideally also include a real time clock so that the transmitter can tag "events" with time and date information.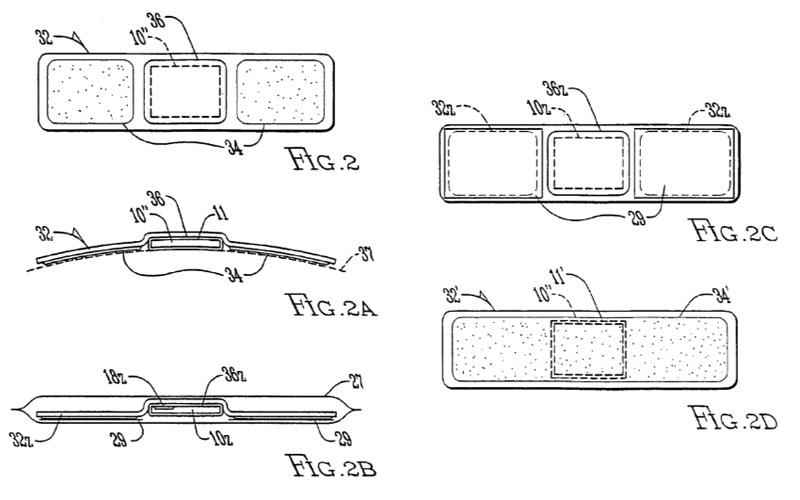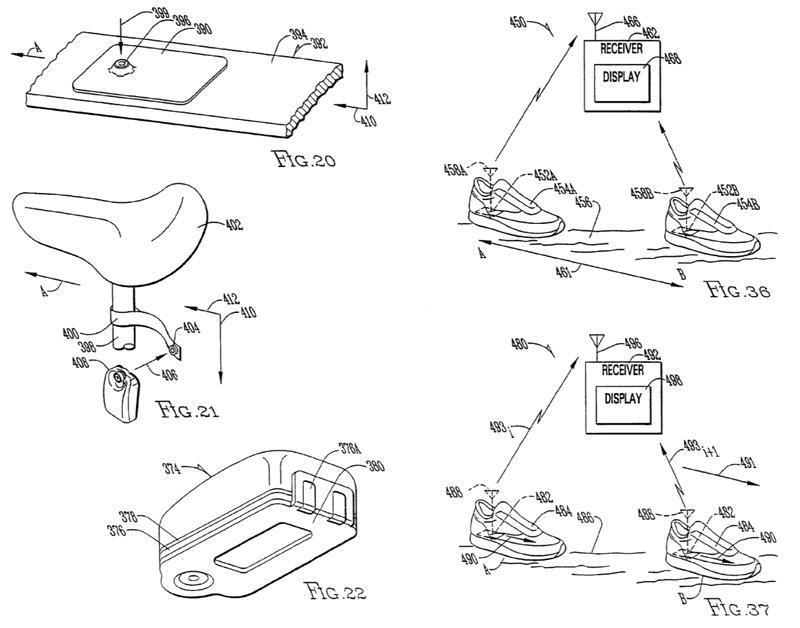 In one aspect, the MMD continuously relays a movement metric by continuous transmission of data from the detector to a RR. In this way, a MMD attached to a person may beneficially track movement, in real time, of that person by recombination of the movement metrics at a remote computer. In one aspect, multiple MMDs attached to a person quantify movement of a plurality of body parts or movements, for example to assist in athletic training (e.g., for boxing or karate).
"In another aspect, multiple MMDs attached to an object quantify movement of a plurality of object parts or movements, for example to monitor or assess different components or sensitive parts of an object. For example, multiple MMDs can be attached to an expensive medical device to monitor various critical components during shipment; when the device arrives at the customer, these MMDs are interrogated to determine whether any of the critical components experienced undesirable conditions— e.g., a high impact or temperature or humidity."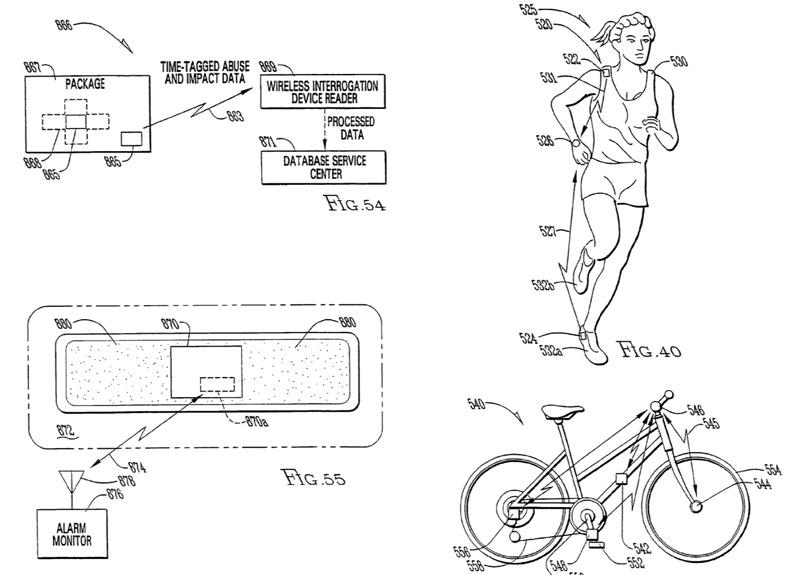 MMDs could also be capable of measuring temperature, humidity, moisture, altitude and pressure. These environmental metrics would be combined into an MMD with a detector that facilitates the monitoring of movement metrics. And they "can practically attach to almost anything to obtain movement information," the filing claims.
By way of example, an MMD can be mounted to the helmet or body armor of each football player or motocross competitor to monitor movement and jerk of the athlete. In such applications, data from the MMD preferably transmits event data in real time to a RR in the form of a network, so that MMD data associated with each competitor is available for broadcast to a scoreboard, TV or the Internet. Other advantages should be apparent in the description within."
The second kind wireless monitoring device Apple describes in its filing is called an Event Monitoring Device, or "EMD," which can be used to monitor and report humidity, chemicals, heart rate, pulse, pressure, stress, weight, environmental factors and hazardous conditions. Nearly identical in structure, composition, and operation to MMDs, EMDs monitor one or more metrics for "events," where data is acquired that exceeds some predetermined threshold or value.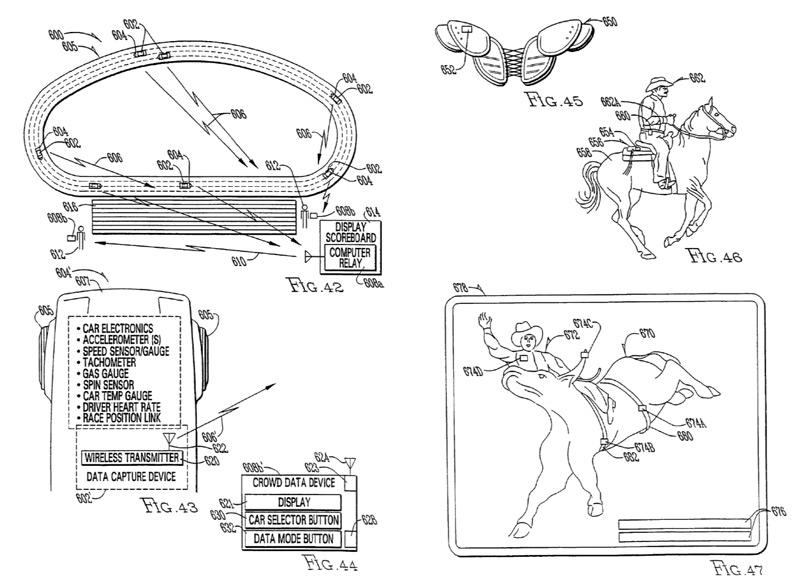 In [one] example, the detector and processor collectively monitor stress events, where for example it is determined that the EMD attached to a human senses increased heart rate of over 180 beats per minute (an exemplary "event" threshold). In still another aspect, the detector is a chemical (or pH) detector and the processor and detector collectively determine a change of chemical composition of an object connected with the EMD over some preselected time period.
Apple goes on in the filing to describe how MMDs and EMDs can monitor and enhance activities and live broadcasts of Nascar races, marathons, rodeos, bike races, and extreme sports. They could also be applied to body armor and used for weight monitoring. Readers can check out the full, now 84-page filing, here.