Claims of Apple employees being tasked with "fake" projects debunked in new, extensive report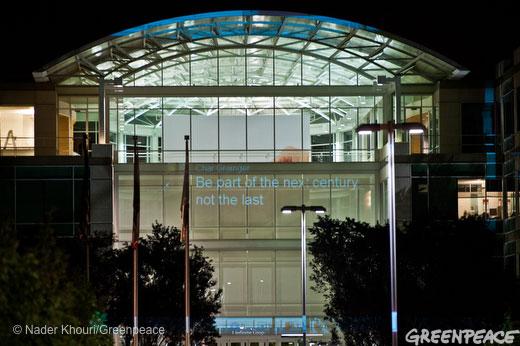 AppleInsider is supported by its audience and may earn commission as an Amazon Associate and affiliate partner on qualifying purchases. These affiliate partnerships do not influence our editorial content.
Apple is a secretive company, closely guarding projects under development and occasionally placing leaking divisions "under lockdown," but it does not, according to a new report, assign new employees to "fake products" in order to gauge their trustworthiness as once reported.
Apple's headquarters, pictured with a GreenPeace protest ad projected onto it.
Claims that Apple would test loyalty by putting new hires on fake projects arose with the publication of Adam Lashinsky's Inside Apple, which made mention of workers hired into "dummy positions," with their roles left undefined until they'd been with the company for some time. According to a new report out from Ars Technica, those workers aren't tasked with "fake products" meant to protect Apple's trade secrets; rather, they are likely working on any number of projects that never see the light of day for a myriad reasons.
Ars spoke with a number of former Apple employees, all of which expressed skepticism that a company as no-nonsense as Apple would waste its and its employees' time on fake projects. Besides, the employees explained, Apple staffers are frequently bound by non-disclosure agreements, the violation of which would leave them liable to termination or litigation.
The portrait of Apple's American operations that emerges from the report is one of a "containerized and siloed" organization, where employees know so little about what is going on in other departments that chatter amongst them is largely the same content one might see on publications like Ars and AppleInsider, which cover the company's ongoings on a regular basis.
When Apple does hear of leaks from a particular department, the report says the company is not above going into "lockdown" in order to identify a source. Former employees recount witnessing security personnel surrounding divisions and visiting each employees desk to grab data from computers and devices. The company is said to be able to pinpoint leaks "almost instantly," though it sometimes can take longer. Still, former employees maintain that leaks are uncommon in the company's United States operations.
Where Apple does apparently have a leak problem, though, is with its overseas suppliers. Apple observers are by now fairly familiar with the steady stream of leaks purporting to show iPhone components or to reveal specs of future devices. Apple's suppliers, the former employees say, are more willing to leak product details, since they have much less skin in the game.
"Clearly, the people who need the security training are not [in Cupertino]," said one former engineer. "They're not getting the same level of scrutiny as we are, and it shows."
The fake project rumors, the report concludes, are likely a misunderstanding of Lashinsky's original point in his book. Lashinsky himself says he likely used poor phrasing when talking on the issue.
"The concept I was trying to describe," the author told Ars, "might be best worded as 'placeholder' positions or 'unspecified' projects."
Another former Apple employee, speaking on record, also dismissed the idea.
"I never, in seven years there heard of anybody's time being intentionally wasted on a fake project," Daniel Jalkut wrote in a post on Twitter. "Canceled projects, sure."