Apple could triple share of Chinese market with $330 'iPhone mini'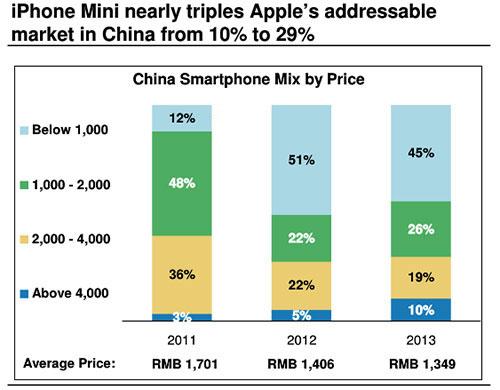 Riding on rumors of a purported "budget" iPhone, Morgan Stanley on Tuesday released a report estimating that Apple could add nearly $2.4 billion dollars to its handset business and triple its addressable smartphone market in China by debuting a $330 "iPhone mini."
In the report, analyst Katy Huberty said that, contrary to a consensus view that the Chinese smartphone market is contracting, prices are actually stabilizing in the region, offering Apple an opportunity to target a new demographic of users. She pointed to historical trends in Apple product launches, noting that the company launched its first sub-$1000 notebook in Oct. 2004, the same year PC price drops recovered from a sharp decline of nearly 10 percent.
Coupled with growing 3G handset shipments on the China Mobile's TD-SCDMA network, Apple could be primed to address an incremental 20 percent of the market, adding to the 10 percent already addressed by the iPhone 5. The world's largest cellular provider by subscribership has yet to officially carry Apple's smartphone, though it was reported in March of last year that some 15 million iPhones were being used on the carrier's slower 2G network.
"We believe Apple could launch iPhone Mini at $330 (about Rmb2,000), in-line with flagship products in China from Lenovo, Huawei, ZTE and Coolpad," Huberty said in the note. "Even in a scenario of low 40% gross margin and 1/3 iPhone cannibalization rate (flattening legacy iPhone shipment growth), which we view as conservative, the iPhone Mini adds incremental revenue and gross profit dollars."
If the "iPhone mini" were to launch in 2013, Apple's gross profit margin would decline by 2 percent to 49 percent, but the new handset would boost the company's iPhone business by almost $2.4 billion in gross profit.
Huberty said there are several major catalysts to a China Mobile deal, including: the debut of a cheaper "iPhone mini" handset, next-generation TD-LTE licenses and the passage of cellphone number portability legislation, and the willingness on the part of China Mobile to subsidize high-end devices after a TD-LTE launch.
According to the firm, nearly 40 percent of all 3G smartphones shipped in China are TD-SCDMA, a figure up 15 percent year-over-year. Currently, however, none of Apple's iPhone models support the protocol.
For its part, China Mobile has stated that it has been in talks with Apple to become an official partner carrier since 2009, but the companies have yet to reach an amicable agreement. More recently, Apple CEO Tim Cook reportedly met with China Mobile during his trip to the country in January, though the nature of the discussion remains unknown.