Apple's iPhone 5 and iPhone 4S are world's two most popular smartphone models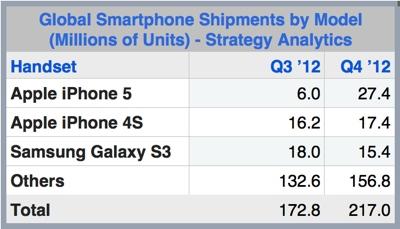 AppleInsider may earn an affiliate commission on purchases made through links on our site.
Apple's iPhone 5 was the best selling smartphone in the world in the fourth quarter of 2012, while the second most popular handset was the iPhone 4S, making it more popular than Samsung's newer Galaxy S3.
New data from Strategy Analytics pegs Apple as having shipped 27.4 million iPhone 5 units during the holiday quarter. That was good for a 13 percent share of all smartphones shipped globally.
Apple's second-tier handset, the iPhone 4S, is believed to have seen 17.4 million units shipped in the fourth quarter. That means the company's 2011 model still managed to account for an 8 percent smartphone share even after the release of the iPhone 5.
According to Neil Shah, senior analyst with Strategy Analytics, the iPhone 5 and the iPhone 4S are currently the world's two most popular smartphone models. Together they took a 21 percent share of all smartphones, a total that doesn't even include the iPhone 4, which Apple continues to offer for free with a new service contract.
"This was an impressive performance, given the iPhone portfolio's premium pricing," said Neil Mawston, executive director at Strategy Analytics.
Coming in third behind the iPhone 5 and iPhone 4S was the Samsung Galaxy S3, of which 15.4 million units are estimated to have been shipped in the fourth quarter. That gave Samsung's flagship handset model a 7 percent share of the market.
"Samsung's Galaxy S3 has long proven wildly popular with consumers and operators across North America, Europe and Asia," Mawston said. "However, global demand for the Galaxy S3 appears to have peaked and Samsung will surely be keen to introduce its rumored Galaxy S4 upgrade in the coming weeks to fight back against Apple's popular iPhone range.
The fact that the iPhone 5 outsold the Galaxy S3 is no surprise, as Samsung's top tier handset launched last May — months before Apple introduced its latest handset. But the data from Strategy Analytics suggests that the launch of the iPhone 5 and subsequent price cut of the iPhone 4S to $99 on contract helped to boost sales significantly, allowing it to overtake the Galaxy S3.