iPad mini helping Apple grow its lead in mobile ad impressions to third of market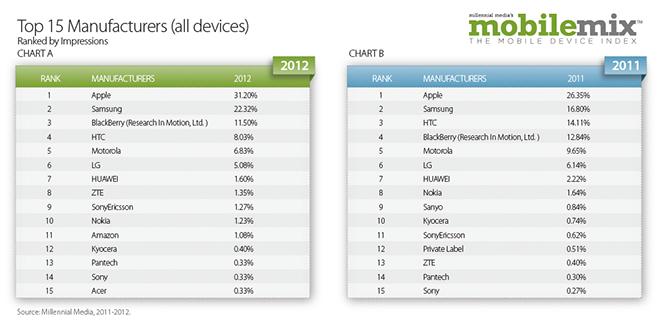 AppleInsider may earn an affiliate commission on purchases made through links on our site.
Apple in 2012 increased its lead over other mobile device manufacturers in terms of mobile ad impressions, leveraging the launch of the iPad mini to grow its share to nearly a third of the overall market, according to a new statistics.
Millennial Media, the third-largest mobile advertising platform after Apple and Google, released on Friday its 2012 year in review report for the mobile advertising market, which places Apple atop all other manufacturers with 31.2% of all mobile-based ad impressions. That's nearly a five%age point increase over the company's 26.35% share in 2011.
More specifically, the report illustrates the increasing dominance of Apple and Samsung in the mobile sector. Samsung was second to Apple, with 22.32% of mobile impressions. Together, the two manufacturers combine for control for more than half of all mobile impressions.
The only other manufacturer with double-digit impression share was BlackBerry, with 11.5%.
Millennial affirmed that Apple's iOS continues to lead among tablet operating systems in the mobile ad space, generating 58% of all ad impressions. However, Android's share in the segment has grown to 41%. Samsung was the overall leader among Android tablet manufacturers, with 45% of ad impressions. Meanwhile, Kindle Fire maker Amazon took second place with 26%. Motorola, Acer, and Asus rounded out the top five Android tablet makers, though none of the three approached a 10% share.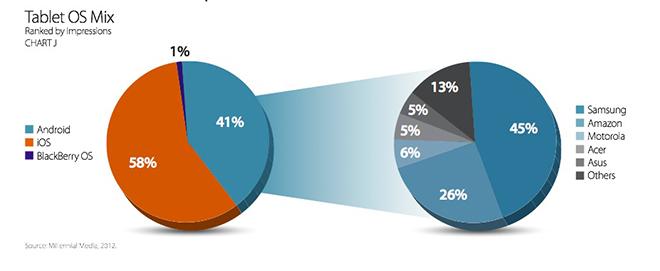 Apple's iPhone and Samsung's Galaxy line of Android-powered devices have been driving the mobile industry for some time now. In 2011, Apple and Samsung accounted for about 43% of mobile ad impressions. The two companies' dominance of the mobile sector has come at the expense of other manufacturers. Nearly every other competitor lost ad impression share from 2011 to 2012.
Notably, Millennial's figures point to considerable sales for Apple's iPad mini. Apple's mid-sized tablet, from its introduction, saw ad impression growth at a rate of 28% per day, outpacing Amazon's Kindle Fire, which also sold briskly following its introduction. The report also identified considerable growth by Samsung's Galaxy Note II, which saw impressions rise at a rate of 20% per month following its release.