Samsung questions whether Apple can patent beauty in Australian court case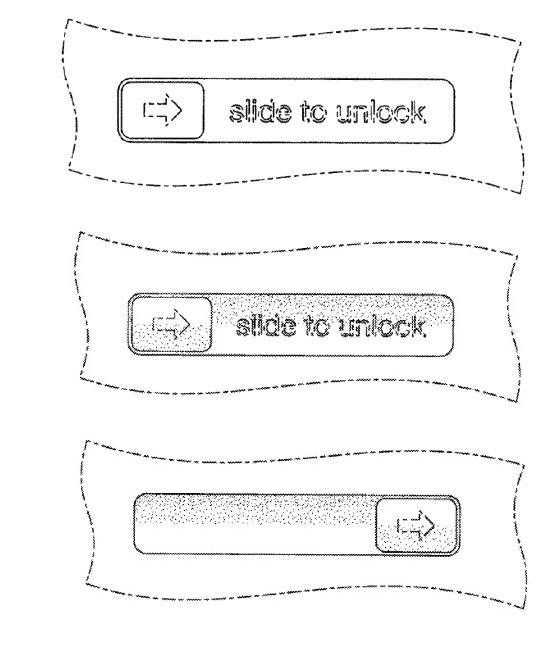 Apple and Samsung's ongoing international patent struggle took a novel turn in Australian Federal Court on Wednesday, with Samsung's counsel questioning whether Apple's claims to "beauty" and "elegance" in its iOS interface is enough to justify an enforceable patent.
Apple's slide-to-unlock patent, shown here in a USPTO filing, is among those challenged by Samsung in Australian court.
ZDNet carried word on Wednesday that Samsung counsel Richard Coben argued before the Australian Federal Court's two-judge panel that Apple's patents — such as pinch-to-zoom and slide-to-unlock — describe only human-computer interaction, a design principle that cannot be patented.
Apple, Cobden said, was inferring that the interactions' functionality stems from the "elegant or beautiful" movements users perform to activate them. Such features, he said don't constitute grounds for a patent.
"Patents," Cobden argued, "are not granted for the reason that something is beautiful or elegant. The attractiveness of a feature is subjective."
Cobden went on to state that Samsung disputed the notion that functionality derives from the attractiveness of a feature. The gestures Apple has patented, he argued, are more akin to "fine art," and thus cannot be patented.
"What is subjectively beautiful to one may not be beautiful to another."
Samsung is attempting to invalidate the patents in suit with the Australian Commissioner of Patents. Apple cannot, Samsung argues, hold innovation patents and be granted standards patents for the same patents. Allowing them to do so, the company argues, would give Apple leeway to "threaten the market" with more patent suits.
AppleInsider has affiliate partnerships and may earn commission on products purchased through affiliate links. These partnerships do not influence our editorial content.