Apple's 'secret' eBay store undercuts company's own refurb store by $100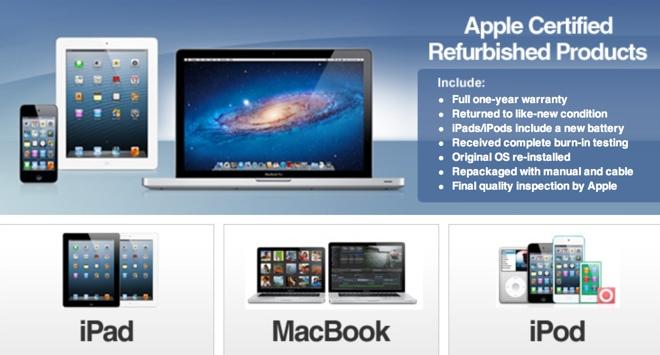 Apple's somewhat unofficial eBay store has begun undercutting the company's own refurbished prices, offering MacBooks for up to $100 less, and savings of up to $50 on iPads and iPods.
Apple's Refurbished Outlet eBay store, where the company sells Macs, iPads and other products at significant discount. Currently, shoppers can find the following deals:
AppleInsider has been tracking Apple's "secret" eBay store and has witnessed the company adding more inventory on a daily basis as of late. The company's somewhat unconventional approach to selling inventory is in addition to across-the-board price cuts the company instituted on its MacBook Pro with Retina display models last month.
Aggressive deals on Apple's MacBook lineup continued throughout the month of February, when resellers began offering discounts of as much as $350 off of the company's premium laptop lineup.
Apple's changes come after the company saw a 17 percent year over year drop in Mac sales in the December quarter. The company largely attributed that reduction to limited availability of its latest iMac models, but also admitted that cannibalization from the company's own iPad may have played a role.
Lowest Prices on New Macs
Meanwhile, readers in the market for new, sealed Apple products and closeout items can turn to our Macs, Macs with AppleCare, and iPad price guides for the absolute lowest prices anywhere. In addition, AppleInsider readers get the absolute lowest prices anywhere on MacBook Airs and MacBook Pros when using links in the price guides or this article and then apply Promo Code APPINSDRMWB38717 on MacMalls product pages. Similarly, readers in the market for a new Mac with AppleCare can achieve the best prices on the bundles when using our Macs with AppleCare price guide.