Teardown finds Pebble smart watch unrepairable but built to last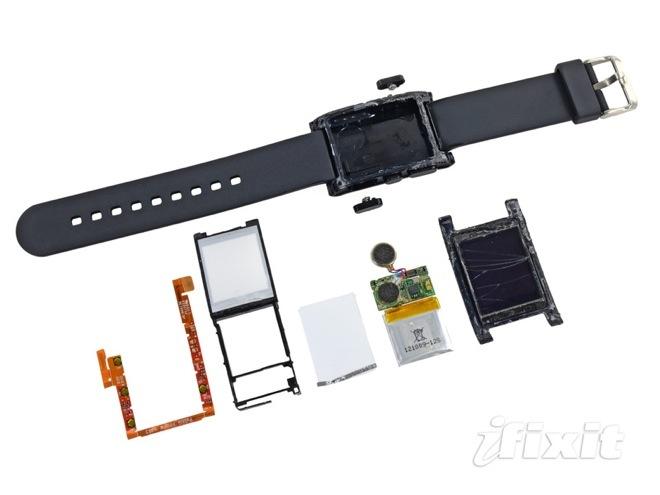 AppleInsider is supported by its audience and may earn commission as an Amazon Associate and affiliate partner on qualifying purchases. These affiliate partnerships do not influence our editorial content.
A disassembly of the new Pebble smart watch has found that the waterproof wrist accessory is nearly impossible to repair internally, but its infrequently charged battery should last for up to a decade.
iFixit was unable to take apart the Pebble without breaking its e-ink display, declaring that such a task would be "impossible." That's because the Pebble has "tons of adhesive" that helps to make it waterproof for tasks like washing dishes and swimming in shallow water.
But while internal repairs of the Pebble are "infeasible," replacing the device's watch band should be easy, as the smart watch uses a standard size.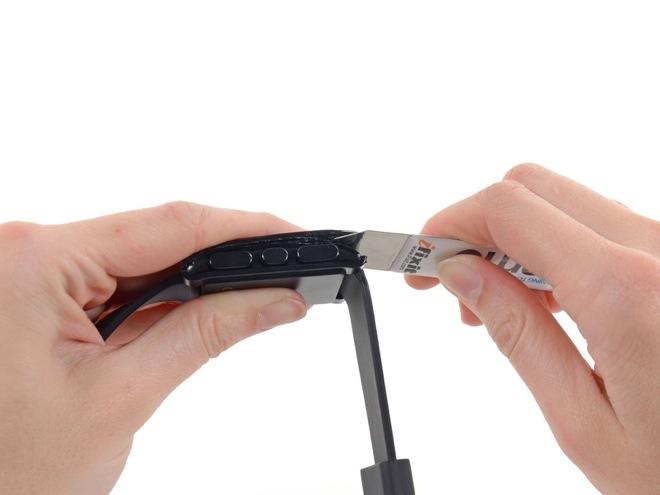 In addition, the Pebble can go up to 7 days without being recharged, and those infrequent charges will increase the battery life of the device. Though the battery is inaccessible for repairs, iFixit said its Fullriver-branded battery, which is rated at 3.7 Volts and 130 mAh, should last for 6 to 10 years.
The solutions provider also got in touch with Pebble's design team to voice their concerns about end-of-life recycling of the accessory. The company informed them that they have a plan in the works for recycling a broken Pebble.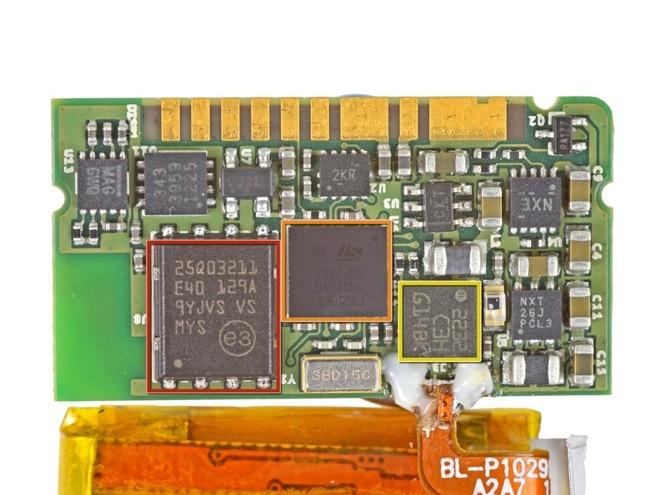 Components found inside the wrist watch in the teardown are:
E-paper display with three LED backlights
Micron N25Q032A11ESE40F with 32 megabytes of serial flash
STMicroelectronics STM32F205RE high-performance ARM Cortex-M3 MCU, with a maximum speed of 120 megahertz
STMicroelectronics LIS3DH 3-axis accelerometer
Panasonic pan1316 RF module
Texas Instruments CC2560A Bluetooth Controller, which does not support Bluetooth Low Energy
Fullriver battery rated at 3.7 volts and 130 mAh
The Pebble gained considerable attention last year when it was introduced on Kickstarter, a crowd funding site for new products. Support for the accessory reached $10 million, and units began shipping to those who preordered earlier this year.
Smart watches have become a trend as of late, with other options like the MetaWatch and I'm Watch also currently available. There have also been recent rumors that Apple is working on its own so-called "iWatch," which could debut as soon as this year.