New Samsung smart watch will be company's third stab at wrist accessory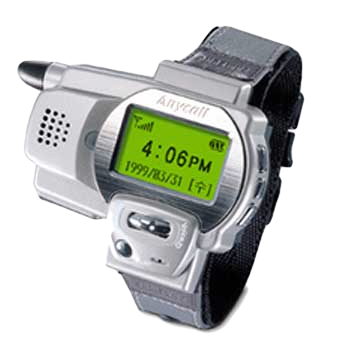 Samsung recently tipped that it plans to enter the connected smart watch market, but the company has twice in the past also attempted and failed to pioneer with such a device.
The Samsung SPH-WP10 launched in 1999.
Earlier this week, a Samsung executive revealed the Korean company is working on an entry into the mobile computing arena. Nothing about the device has been disclosed, but the reveal comes on the heels of rumors that Apple is planning to offer its own so-called "iWatch," and as devices like the Pebble, MetaWatch and I'm Watch have been earning buzz.
But well before the smart watches of today, Samsung also attempted to pioneer the market on two occasions, as highlighted by Josh Lowensohn of CNet this week. The first attempt came in 1999 when Samsung introduced the SPH-WP10, which was essentially an entire cell phone worn on the wrist.
When the product was unveiled, Samsung expressed the believe that the phone market was "nearly saturated." Its strategy at the time was to create a product that would appeal to "specific generations of mobile telecommunications service users," in particular the youth market.
The SPH-WP10 came with an advertised 90-minutes of talk time with an integrated speaker and microphone. As was common with phones at the time, it had a protruding antenna, as well as a monochrome LCD screen.
Samsung's second attempt was in 2009, when the company launched the S9110 Watch Phone. It also was a full-featured phone that included the ability to make calls from your wrist.
More in line with modern smartphones and not unlike Apple's previous-generation clip-on iPod nano, the Samsung S9110 featured a 1.76-inch color LCD display and was 11.98 millimeters thin.
While Samsung's first two wrist watch attempts sought to be devices that would do it all, more recent smart watch efforts like the Pebble and MetaWatch have instead opted to be smartphone accessories. The newer watches rely on a Bluetooth connection to a separate handset for data and connectivity, providing information such as weather updates, GPS data, and notifications of phone calls or text messages.