Review: Pebble smart watch is worth the hype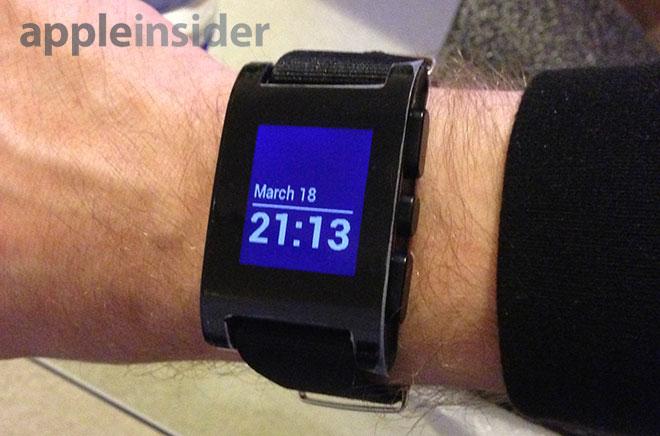 Pebble, the famed Kickstarter smart watch project that raised well over $10 million, has been enjoying a huge amount of media hype thanks in no small part to its tens of thousands of backers. The buzz is well-founded; Pebble is good and getting better by the minute.
Hardware
First, the watch: The Pebble may not be elegant in the way that traditional wristwatches can be, but it's well-designed, minimalist and waterproof down to 165 feet. Available in black, white, red, orange, and gray colorways, the watch's plastic casing includes 22mm lugs so users can replace the included strap with any 22mm band or bracelet.
The screen is an easy-to-read 1.26-inch backlit e-paper display with a resolution of 144-by-168 pixels. Despite the relatively low pixel density, the screen had no trouble displaying details like an envelope message indicator or small status bar icons like musical notes. Unlike displays in other portable devices, the panel on the Pebble is easy to read in sunlight, while the backlight can be activated in dark environments with a flick of the wrist thanks to the built-in accelerometer. The angle-of-view is very wide, making it perfect for glancing at casually while driving, or performing quick message checks without fumbling for the connected phone.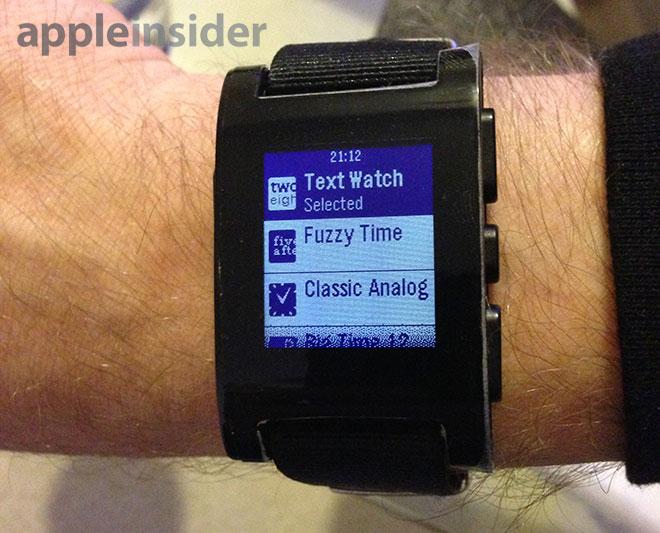 In order to make the most out of the watch face-sized screen, text is drawn at a reasonable height for notifications, meaning users don't have to squint to read incoming messages and alerts. Rather than shrinking the text of longer messages to fit on the display, Pebble has chosen to make the text height larger which requires scrolling. This is a smart choice.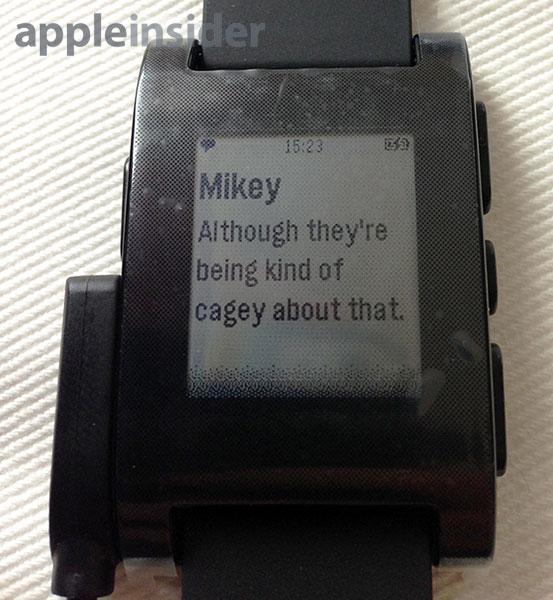 The Pebble connects to the iPhone using Bluetooth. It appears from hardware teardowns that it has Bluetooth Smart (aka Bluetooth Low Energy, aka Bluetooth 4.0) but does not appear to be using BTLE (Bluetooth Low Energy) at this time. Even so, the unit can go for about 5 or 6 days on a charge.
The charging system is akin to Apple's MacBook Pro, with a magnetic charging cable attaching to contacts on the left side of the watch. Any USB adapter can charge the device, but the specialized cable is a necessity.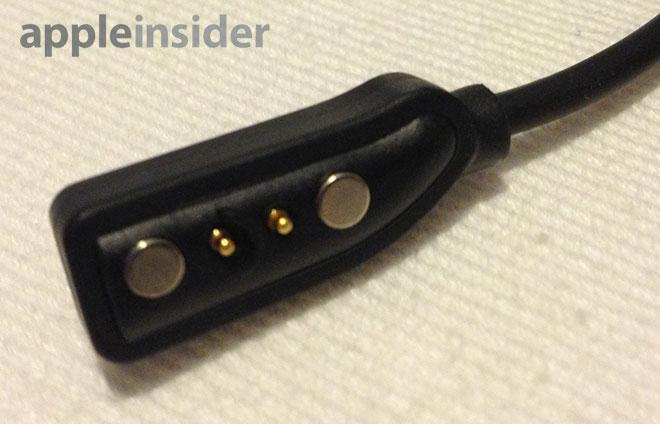 Usability
To navigate Pebble's interface, there is one menu button on the left, and scroll up, scroll down and select buttons on the right. Button feel is mostly responsive and consistent across all actuators, though some may be turned off by the lack of the firm "click" found with mechanical watches.
In use, the buttons work the same way in almost every application. Upper-left backs up the menu tree. Upper-right navigates up a menu list, lower-right navigates down a menu list and center-right selects a menu item. The layout only differs in Bluetooth setup, the music player and handling incoming calls. In those cases, Pebble shows transport controls for music, or an "X" or "V" to hangup or accept phone calls. As a side note, caller ID for an incoming call is displayed on the Pebble's screen.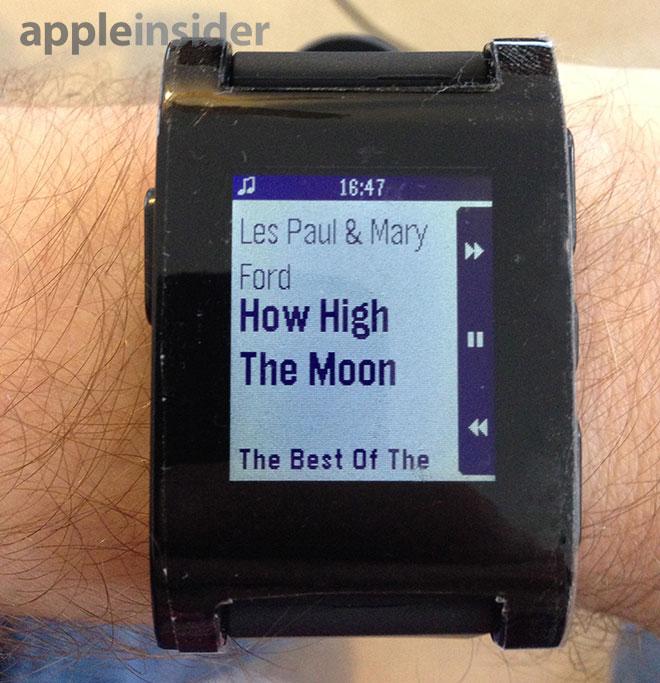 With the latest firmware version 1.9, which came out on March 18, the menus are easier than ever to navigate. Music, Set Alarm, Watchfaces, and Settings are the top level. Watchfaces and Settings act like folders to the next level down the tree. Watchfaces has about six different options from which to choose, though more are available via the iOS app. When the watch times out after showing a notification or sitting in a menu, it reverts to the last selected watchface. The Settings menu contains options for the backlight, font size, and Bluetooth.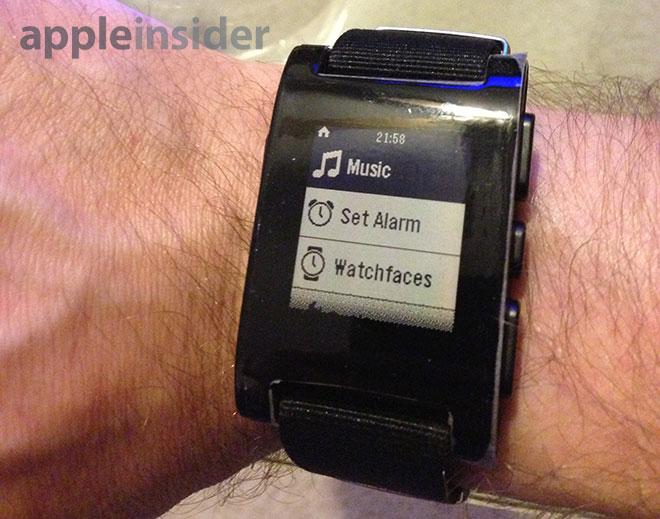 Out of the box, Pebble works as advertised. When a notification arrives on the iPhone (SMS, email, or others alerts you've toggled) it almost instantly causes the Pebble to vibrate and display the message on the screen. If the message is too long, you can read through it using the aforementioned up and down scroll buttons. After a few minutes of idling, Pebble will automatically revert back to the preselected watchface.
The Pebble team's work to polish small, seemingly insignificant facets of the user interface really speak to the overall quality of the device and its software. For example, in the video below, you can see the the firmware update process is visualized as a "water flow" from iPhone to Pebble. It's this attention to detail that makes the Pebble impressive.
Future Potential
Because Pebble is almost like having a tiny computer on your wrist, developers can take advantage of the platform to create a number of apps custom made for various features not included in the stock software package.
For example, Hexxeh of Hexxeh.net wrote a bit of code called "libpebble" which adds button event handling of desktop OS apps to Pebble, granting users control of iTunes, PowerPoint, and Keynote. Those interested in the project can find the PowerPoint on Windows code here, and the fork of "libpebble" that controls iTunes and Keynote here. Note: Use "python p.py remote itunes" for iTunes control and "python p.py remote keynote" for Keynote control after your pebble is paired with your Mac.
In addition, a Pebble team member has forked "libpebble" and is currently making improvements to it, while a .NET version of the code exists as a non-straight port. All of these efforts are coming from a small but interested developer community, meaning that Pebble is getting better through first party development as well as amazing developer volunteers. More information can be found at the wiki for developer hacking at pebbledev.org and an IRC channel at chat.freenode.net #pebble.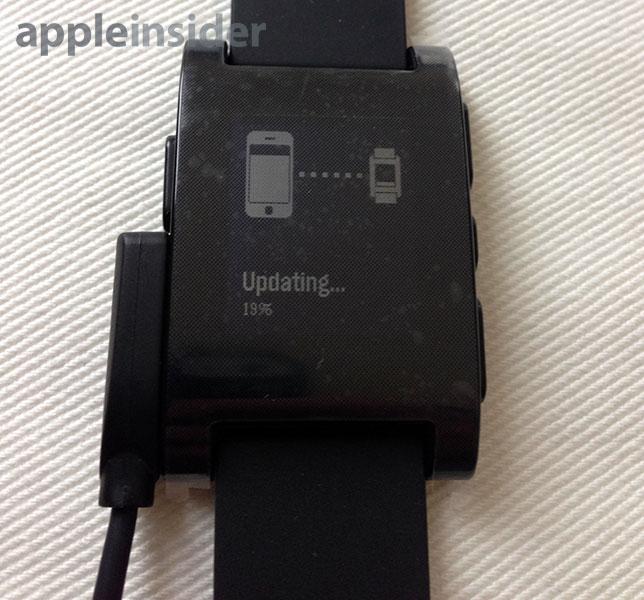 The latest Pebble update heralds the release of the watchface SDK. Currently, the Pebble Kickstarter page advises "Important note: the proof-of-concept Pebble watchface SDK will not enable access to the accelerometer (or magnetometer), or communication between watchfaces and smartphones (among other major deficiencies)."
This jibes with information I've been hearing from people who have seen the SDK, who said the package seems to just cover the drawing of text, images and defined paths. One thing that's still missing, that they're hoping to add soon, is the saving of watchfaces data across launches. The advantage would be instead of needing a 12 hour and 24 hour version of the watch, they can have that be a setting, and that setting will be remembered. The SDK as it currently stands (and Pebble is calling it a "proof-of-concept SDK") contains the ability to draw custom fonts and layout on the screen, but no ability for watchfaces to retain settings like world clock timezone preferences.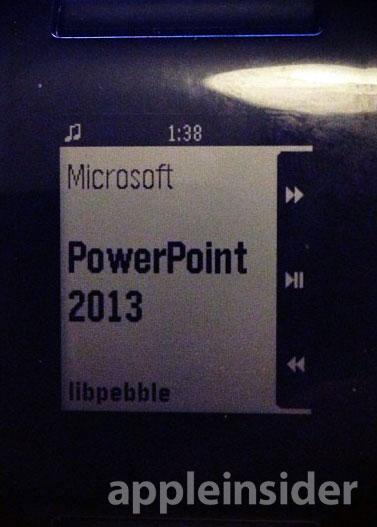 Personally, I'm still looking forward to IFTTT.com (If This Then That) integration. Pebble has been very transparent about the proof-of-concept SDK, but has been quieter about IFTTT.com integration. Still, they've been very open and cooperative with the developer community forming around them.
Pebble has, however, announced support for Runkeeper.com is coming soon. I don't personally like Runkeeper as much as others do and use Fitbit and loseit instead, but support for external applications is a huge beginning.
Other future developments may take advantage of the accelerometer and compass. Runkeeper integration probably takes advantage of the accelerometer. I can't wait to see what someone does with the compass.
Wrap Up
A question you should ask yourself when determining whether or not you need a smart watch is, what do you want to use it for?
So far, I've found that I want a watch that is:
* Shows messages quickly from the phone to the watch
Those are the absolute requirements. The music player is desirable, but it has to be easy to operate, with obvious transport controls.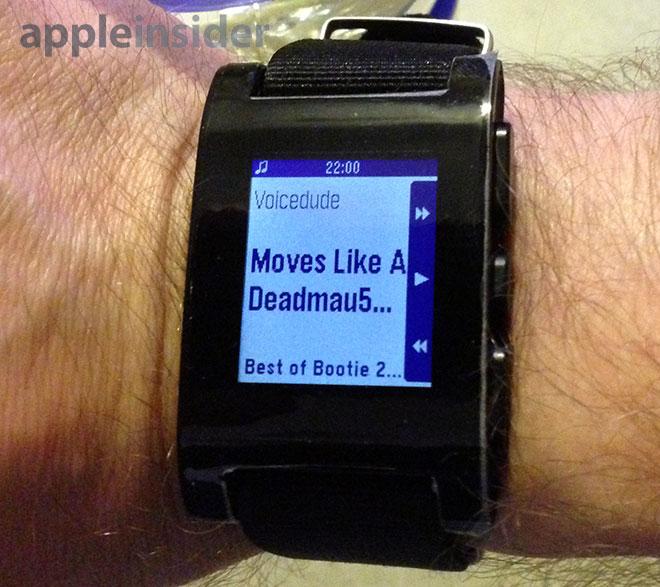 Other watches add things like browsing the calendar, weather forecast, stocks, or phone battery status - but the above list are the essentials that have to be right.
That isn't to say that there's no room for improvement.
One problem I've had when testing Pebble is the intermittent failure of iOS notifications. This can happen when the Bluetooth connection is broken, forcing you to toggle certain notification settings on your iOS device. The Pebble team is hard at work with new firmware updates, however, and has recently dealt with a number of minor issues with the latest release.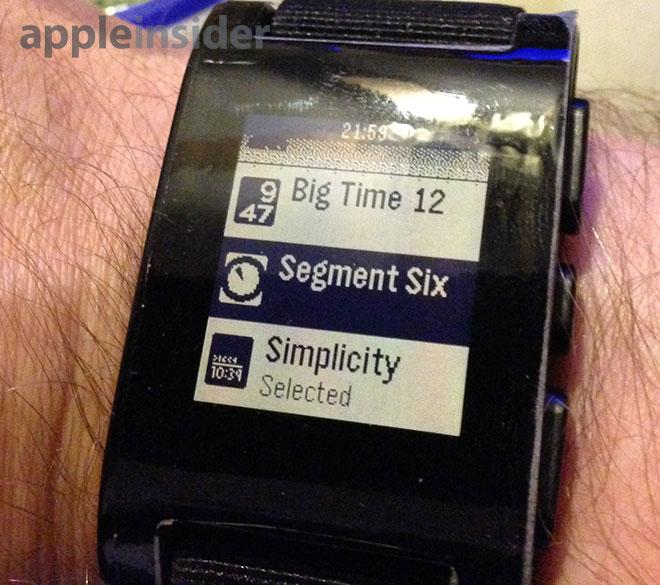 The main launcher menu was also simplified in v1.9. Pebble says, "We've also made a lot of changes under the hood on the text rendering engine, making it easier and faster for developers to display text on Pebble."
Bottom Line
At $150, Pebble is one of the most affordable smart watches available, and you can't go wrong with it. Even so, when you're laying out $150 for a wrist watch, a good question to ask is, "How is product support?" I'm pleased to say that @getpebble on Twitter and email support via the support button in the Pebble iOS app were both responsive to requests for help. Kudos to their social media team who responded in minutes on a Saturday evening.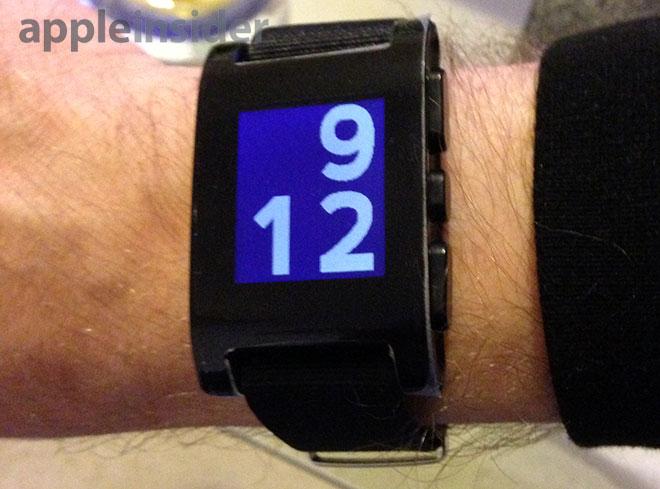 All told, Pebble is absolutely worth the price of admission.
Score: 4.5 out of 5

Good user interface
Good screen legibility
Ability to change bands/straps
Lack of availability
No out-of-the-box support for IFTTT and other external apps
Disclosure: the writer of this piece is a backer of the Kickstarter project.