T-Mobile reported to premiere no subsidy 'UNcarrier' plans ahead of iPhone launch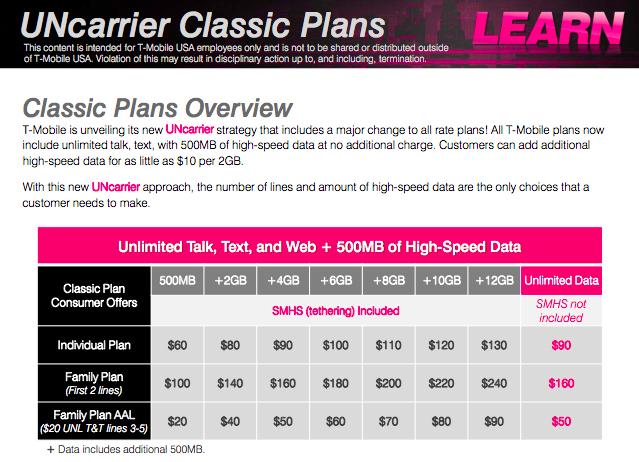 A purported internal T-Mobile document leaked to the Internet reveals specifics of the wireless provider's "UNcarrier" plans, which signal a move away from subsidies in favor of cheaper monthly rates.
Under the new structure, all T-Mobile plans will include unlimited talk and text, and a 500MB allotment of high-speed data. Individual plans will start at $60 per month and top out at $130 per month for 12GB of data. An unlimited data option is available for $90 per month, but lacks tethering.
Family plans will begin at $100 per month for the first two lines, while tacking on 12GB of data raises the fee to $240 per month. Up to three additional lines can be added to the 500MB plan for $20 each, or $90 each for the 12GB option. Two-line family plans with all-you-can-eat data start at $160 per month.
A smartphone mobile hotspot feature is included in all plans except for those with unlimited monthly data. Those customers will be able to purchase 2.5GB and 4.5GB data chunks to put toward tethering for a fee of $10 and $20, respectively.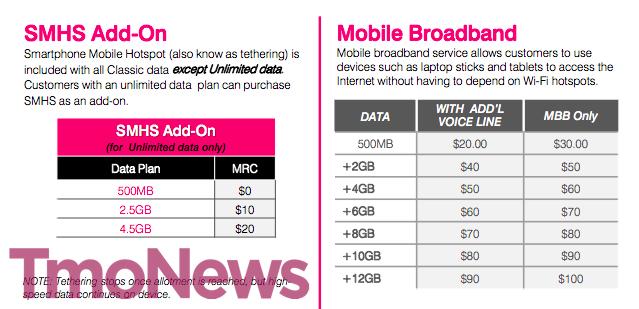 The move away from subsidies will see customers paying full price for their smartphones but with lower monthly rates, which could save subscribers money in the long run depending on contract length. T-Mobile believes such a move could boost its market share in the American wireless sector by five percent or more.
The "UNcarrier" is expected to go live with its Value Plan only structure on March 24.
While T-Mobile doesn't currently offer Apple's iPhone on contract, the carrier's network does support the device. In a February announcement, the company revealed that more than two million iPhones were in operation on its network, with about 100,000 owners brining over their unlocked Apple devices per month.
T-Mobile announced in December that it had inked a deal to become an Apple partner carrier in the U.S. effective some time this year. Speaking with Reuters in January, T-Mobile CEO John Legere revealed that the company plans to begin selling iPhones sooner rather than later. At the time, Legere said customers could expect the device to arrive at the carrier in "three to four months as opposed to six to nine months."
AppleInsider has affiliate partnerships and may earn commission on products purchased through affiliate links. These partnerships do not influence our editorial content.