Apple's $20M purchase of WiFiSLAM snubs Google's Android for indoor map tech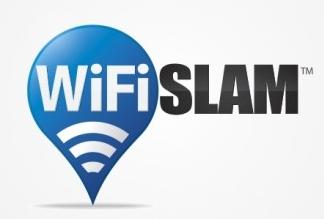 AppleInsider may earn an affiliate commission on purchases made through links on our site.
Apple's latest acquisition, WiFiSLAM, was an Android-centric indoor location positioning tool for developers that has now been taken off the market.
Apple has a history of shutting down the public facing services of companies it acquires, a strategy that has unsurprisingly continued with its latest purchase of indoor GPS company WiFiSLAM. The company's Android software development kit allowed applications for Google's mobile platform to receive precise indoor location with their own third-party applications.
The company had an SDK for Apple's iOS in the works, but those plans were discontinued after Apple disabled Wi-Fi scanning in iOS 5.
Nav Patel, who is the creative director and product engineer at WiFiSLAM, explained in a forum post at Hacker News last year that his company's service could still operate on jailbroken iOS devices, which are hacked to run unauthorized code. But Patel admitted that WiFiSLAM was not interested in supporting jailbreak developers, as it is "not a big target audience."
At the time, WiFiSLAM reportedly had a "workaround" in development that would incorporate iOS devices with its service. But by the time Apple's purchase of WiFiSLAM was made public this week, there was no indication that a public release of the workaround was imminent.
WiFiSLAM's connections to Google go beyond Android, and extend into both personnel and funding. One of the company's founding members, Darin Tay, joined the company after a two-year stint with Google, while current Google employee Don Dodge is an angel investor in WiFiSLAM.
Google already offers its own indoor mobile maps through the company's Google Maps service. They include maps of locations such as shopping malls and airports.
Google has even taken its famous "Street View" to new locations such as businesses, monuments, stadiums, and even underwater.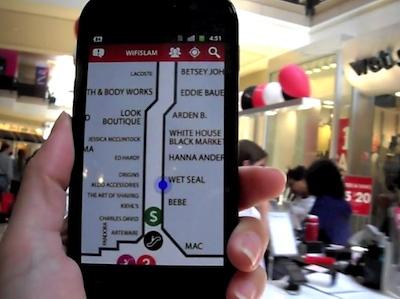 WiFiSLAM on Android with a mall map,

">via

The Guardian.
Apple's purchase of WiFiSLAM is a sign that the company is continuing to bolster its own proprietary mapping software for iPhone and iPad, which launched last year with the debut of iOS 6. Apple Maps were instantly met with derision from a vocal group of users who felt Apple's solution was inferior to Google Maps.
Before it was taken offline completely, WiFiSLAM's website claimed it could calculate a user's precise indoor location in as little as 90 seconds. The service allows mobile applications to detect a user's locations by analyzing Wi-Fi signals in a building.
Apple already uses a similar method to pinpoint a user's location more quickly than GPS satellites can accomplish. While a GPS signal can take several minutes to attain, crowd-sourcing known Wi-Fi hotspots can dramatically reduce the time needed.
"These calculations are performed live on the iPhone using a crowd-sourced database of Wi-Fi hotspot and cell tower data that is generated by tens of millions of iPhones sending the geo-tagged locations of nearby Wi-Fi hotspots and cell towers in an anonymous and encrypted form to Apple," the company explained in 2011.