Facebook to reportedly unveil iOS competitor at April event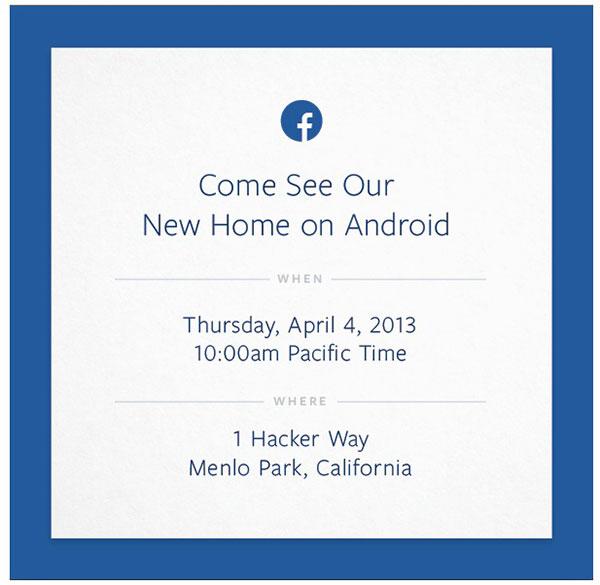 AppleInsider may earn an affiliate commission on purchases made through links on our site.
In a highly suggestive invitation to an April 4 event sent out on Thursday, Facebook welcomes media to "Come See Our New Home On Android," hinting the social networking monolith will finally reveal a much-rumored purpose-built operating system.
Citing sources familiar with the matter, TechCrunch says the Facebook OS will be a platform built on Android, with deep integration possibly baked into an HTC-manufactured smartphone. Speculation of a true Facebook-developed phone have been floating around for some time, though such a device has yet to appear.
According to sources, the unannounced mobile solution won't be a complete rewrite of Android, but a "flavor" with high-level Facebook integration and a UI reminiscent of the company's iOS app. Rumors point to easy account access throughout the system, including the possibility of a home screen with news feed updates and access to Facebook-connected apps.
The publication notes additional clues regarding the presentation's schedule hint to a substantial announcement, as the April 4 event begins at 10 a.m. Pacific with shuttles heading back to San Francisco leaving Facebook's Menlo Park headquarters three hours later.
The company has recently bolstered its Messenger and flagship Facebook for iOS apps to support VoIP calling in North America and parts of Europe, possibly in an effort to create a strong communications base on which to launch the new OS.