Apple extends lead over Samsung, gains on Google in U.S. smartphone market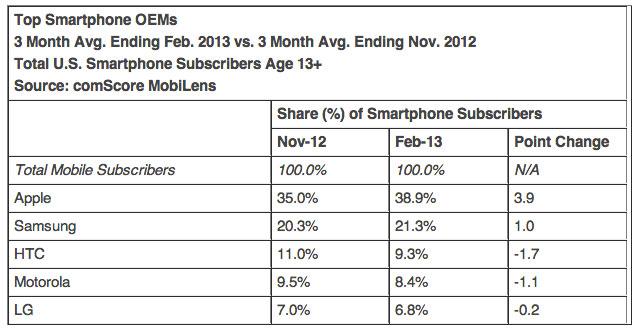 According to a fresh report from comScore, Apple has shown positive growth in the important U.S. smartphone market for the first months of 2013, boosting hardware shipments to outpace rival Samsung and eating up mobile OS share to the detriment of Google's Android.
The market analytics firm reported the most recent from its MobiLens service on Thursday, showing Apple gained 3.9 percent in both smartphone hardware and operating system market share during the three-month period ending in February. From November 2012 to February 2013, Apple's share of the handset market went from 35 percent to 38.9, while iOS made the same change.
Major rival Samsung also saw gains, but only managed 1 percent growth, a little over one fourth of Apple's performance. The Korean electronics giant's share rose to 21.3 percent of the U.S. market, up from 20.3 percent in November.
Apple and Samsung were the only top 5 handset makers to exhibit growth during the three-month period, with HTC, Motorola and LG losing respective market shares of 1.7 percent, 1.1 percent and 0.2 percent.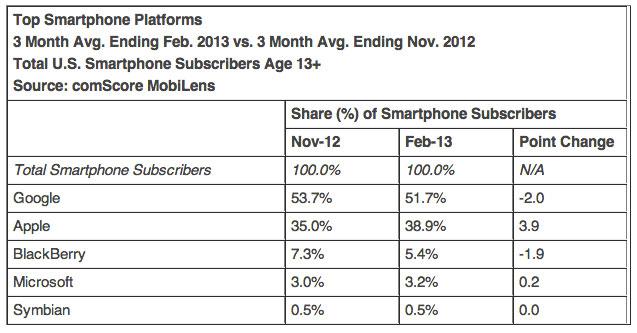 As for the mobile OS space, Google still leads the sector with a 51.7 percent stake, but suffered another monthly decline, this time dropping 2 percent. Apple came in second with a 38.9 percent share of all U.S. smartphone subscribers, while BlackBerry, Microsoft and Symbian rounded out the top 5.
In its analysis, comScore surveyed over 30,000 mobile subscribers in the U.S., and notes smartphone penetration has grown 8 percent since November, with 133.7 million handsets in service as of February.