Intel announces next-gen Thunderbolt with 4K resolution support, 20Gbps speeds coming in 2014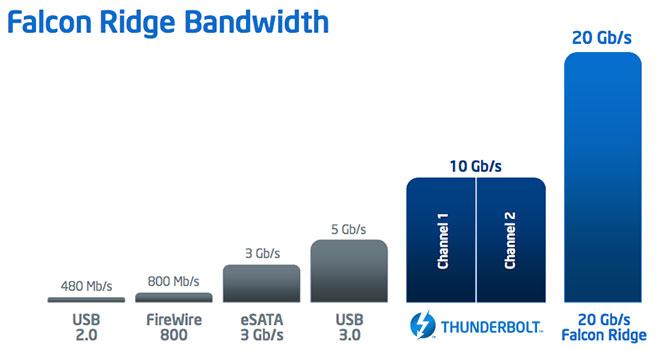 At the National Association of Broadcasters (NAB) Show in Las Vegas, Nevada, Intel on Monday announced the next-generation of Thunderbolt transfer technology, which promises to bring data transfer speeds up to 20-gigabits per second, a doubling over existing Thunderbolt hardware.
According to Intel, the upgraded Thunderbolt interface will be able to hit the 20Gbps transmit speeds over

">two channels

, meaning adopters could see a theoretical doubling in performance from current Thunderbolt systems, reports Engadget. The high-speed tech, code-named Falcon Ridge, allows for simultaneous 4K video file transfer and display over two I/O channels.
Driving the tech will be a new Thunderbolt controller, currently designated by the codename Redwood Ridge, which is expected to be integrated with Intel's fourth-generation Core processor lineup this year. Improvements over the previous Cactus Ridge controller are DisplayPort 1.2 capability when connecting to native DP displays, improved power management and a supposed decrease in material cost.
The Thunderbolt ecosystem has been slowly gaining momentum after Apple and Intel introduced the interface in 2011, with manufacturers finally bringing products to the consumer marketplace.
For example, Corning showed off its thin optical cables for the standard at this year's Macworld. Apple was first to support Thunderbolt with its early-2011 MacBook Pro. Some Windows-based PCs have started to implement the protocol, though it is far less common than competing technology like USB 3.0.
Due to initial pricing of Thunderbolt hardware, which mostly consisted of external hard drive arrays, the interface remained out of reach for non-professional buyers. Adding to the tech's adoption problems was Intel's reportedly strict licensing practices.
Intel is preparing for production to begin later this year ahead of a 2014 release, and notes existing Thunderbolt cables and connectors will be compatible with the buffed protocol.