Component may show dual-head vibration motor for Apple's low-cost iPhone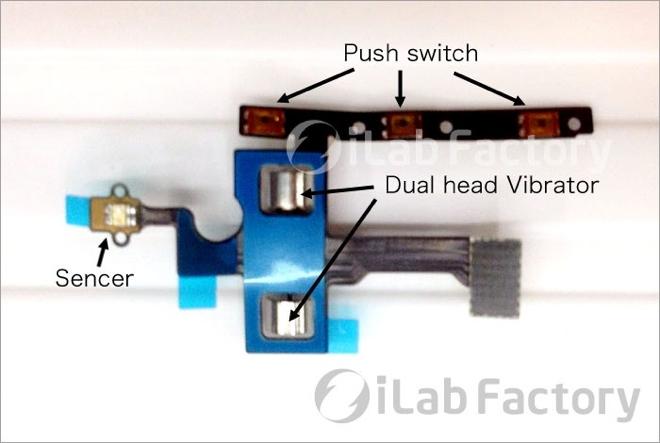 AppleInsider may earn an affiliate commission on purchases made through links on our site.
A new image that could be the first physical evidence of Apple's low-cost iPhone has surfaced, showing a ribbon cable with a dual-head vibration motor, as well as other components.
A dual-head vibration motor claimed to be from an unreleased iPhone, potentially a new low-cost model.
The component allegedly from an unreleased iPhone model was obtained by iLab Factory and highlighted on Thursday by Macotakara. It was suggested that the dual-head vibration design could be an indication that it's a part from a low-cost iPhone rather than the company's anticipated flagship "iPhone 5S."
In contrast, iFixit found its its teardown of the iPhone 5 last year that Apple had utilized a single-head rotational vibration motor with a counterweight. It was noted that Apple had changed the motor from the iPhone 4S, in which the company instead opted to use a quieter linear oscillating vibrator.
Exactly why Macotakara believes a dual-head vibration motor might be a cheaper than a single-head design is unclear. Because the dual-head motor may take up more space, it's possible that the larger component could fit into a thicker, less expensive iPhone model.
However, the component looks nearly identical to one that was pictured last month. That image also showed the dual-head design as part of a flex cable, but was at the time believed to be a component from Apple's so-called "iPhone 5S."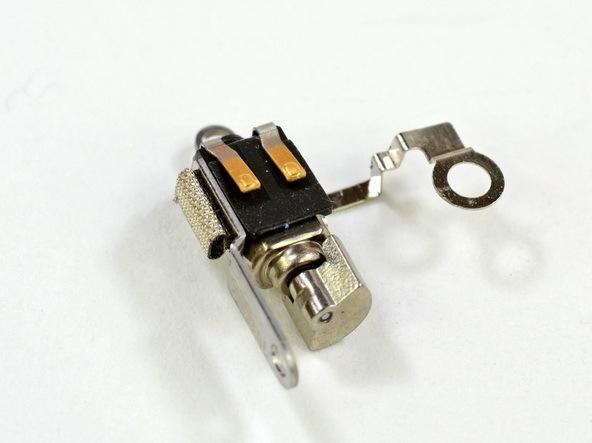 The current single-head vibration motor in the iPhone 5, as discovered by iFixit.
At the time, the vibrational motor was pictured with another purported "iPhone 5S" component that claimed to show the underpinnings of the unannounced device's home button. The home button components featured serial numbers similar to those found on the iPhone 5, adding a degree of plausibility to their potential authenticity.
Rumors have suggested that in addition to a full-fledged next-generation iPhone, Apple is also planning to introduce a low-cost model later this year that would allow the company to address the low- to mid-end smartphone market. It's been claimed that this low-end iPhone could cut costs with a plastic casing and slightly thicker design.