Rumor: More affordable iPhone will launch alongside Apple's 'iPhone 5S' in July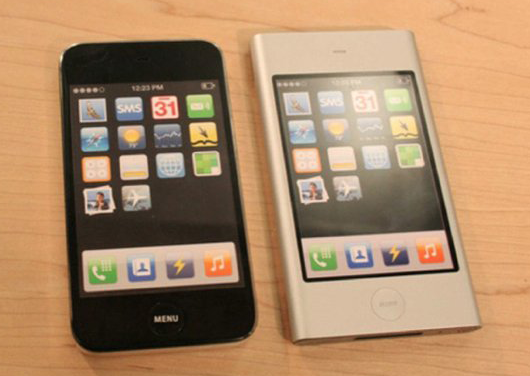 Suppliers in Apple's supply chain reportedly believe that the company plans to simultaneously announce both a low-cost iPhone along with a premium "iPhone 5S" this June, setting the stage for a July launch.
The details were relayed to analyst Brian White of Topeka Capital Markets, who attended an industry trade show in China this week. There he said he learned from suppliers and vendors working with Apple that a new, lower-priced iPhone is expected to be announced in June alongside a next-generation "iPhone 5S."
A pair of iPhone mini prototype concepts developed by Apple were revealed in its court battles with Samsung.
The claims made by White in a note to investors on Friday contrast with those from Ming-Chi Kuo of KGI Securities, a well-connected insider who reported to AppleInsider on Thursday that Apple is likely to face production problems with its so-called "iPhone 5S," leading to a launch later than June. Specifically, he believes that the device will include a fingerprint sensor embedded below the home button, which will pose a number of technical challenges for the company.Supply chain sources told analyst Brian White they believe Apple will launch a cheaper iPhone with a 4-inch display and plastic casing this summer, likely a June unveiling followed by July launch.
Trade show attendees who spoke with White gave no such indications, however. That led him to report on Friday that he expects the low-cost iPhone to have the same 4-inch display as the current iPhone 5, but to feature a slightly thicker design with a curved back made of plastic instead of metal and glass.
As for the anticipated "iPhone 5S," White said there was a "strong consensus" among suppliers that the device will have slight external modifications, though it is expected to look largely the same as the iPhone 5. Anticipated changes to the exterior include a larger camera and slightly rearranged buttons on the left side of the device.
Like Kuo, White also believes that fingerprint scanning technology will be included with an "iPhone 5S" this year. White believes this functionality will be "the major new feature used to market the iPhone 5S, similar to what Siri was to the iPhone 4S."
The suppliers that White spoke with gave no indication of alternative screen sizes outside of the 4-inch display Apple currently uses for the iPhone 5. That's in contrast with his own research note from earlier this week, which predicted Apple would launch a next-generation iPhone with at least two screen sizes this summer.
On Friday, he said the reason for this disparity is "unclear," but suggested there could be "extra secrecy" from Apple regarding a big-screen iPhone, the likes of which could compete with popular devices like Samsung's Galaxy Note series. Alternatively, he said it's also possible that Apple could be thinking ahead to 2014 and potential changes for a so-called "iPhone 6."
Regardless, White believes it is "inevitable" that Apple will launch an iPhone model with an even bigger display. In his trip to China, he has found that big-screen Android phones are among the most popular handsets, and he believes it would be a mistake for Apple to ignore this market trend.