T-Mobile touts 'gangbusters' first day of iPhone sales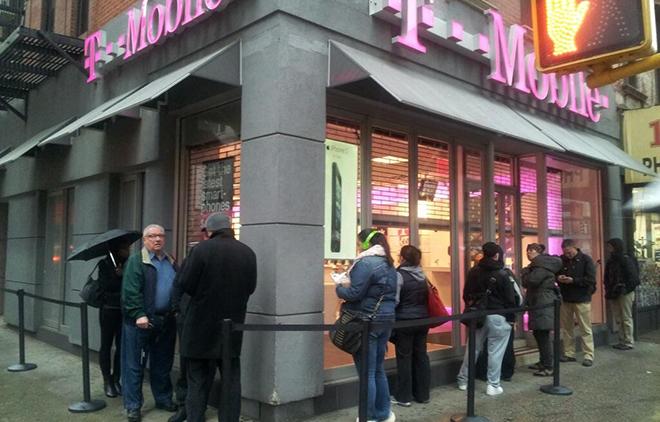 AppleInsider may earn an affiliate commission on purchases made through links on our site.
First day sales of Apple's iPhone on T-Mobile's network have the carrier's executives beaming, with T-Mobile's Chief Marketing Officer calling the day "gangbusters" for the carrier.
Customers line up ahead of T-Mobile's iPhone launch. Image via BTIG Research's Walter Piecyk (@piecykw)
"Today has been gangbusters for T-Mobile," CMO Mike Sievert told AllThingsD last week. "We experienced lines out the door this morning at nearly all of our almost 3,000 stores nationwide."
The iPhone 5, iPhone 4S, and iPhone 4 debuted on T-Mobile on Friday, and Sievert's comments back up reports from multiple outlets that customers had lined up at T-Mobile locations around the country to get their hands on Apple's smartphone. Sievert provided no estimate of first day sales or any indication that the stores had sold through their iPhone stocks.
AllThingsD notes, though, that some reports had those lines dissipating as the day wore on, with the crowds mostly gone by midday.
Up until Friday, the iPhone wasn't officially offered by T-Mobile. Instead, the carrier encouraged iPhone owners on other networks to switch to T-Mobile and bring their devices along. Those users, though, were stuck with slower data speeds due to the Apple handset's incompatibility with T-Mobile's higher-speed offerings.
T-Mobile is the last of the big four U.S. carriers to get the iPhone. The company hopes to siphon customers from its competitors by offering a novel pricing structure and a no-contract standard. T-Mobile's pricing switch has caught the attention of other carriers, though it remains to be seen how they will react.