Apple employs 4 of the top 5 highest paid execs in the US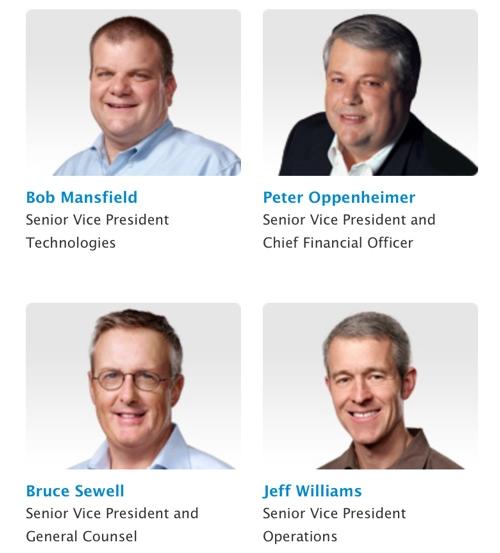 Four of the top five highest paid executives in the U.S. work at Apple, and none of them are the company's chief executive officer, Tim Cook.
Apple's Bob Mansfield, Bruce Sewell, Jeff Williams and Peter Oppenheimer were all among the top corporate earners in 2012, according to U.S. Securities and Exchange Commission data cited by Bloomberg on Monday. Most of their pay came from stock-based compensation rather than base salary.
Mansfield was the highest-paid of the group, receiving $85.5 million in 2012. The company's senior vice president of its Technologies group announced last June that he would retire, but Mansfield was eventually convinced to stay at the company.
Reports last year claimed that Mansfield was given an "exorbitant" payout that convinced him to stay with a new two-year deal. At the time it was claimed that Cook "nearly witnessed an insurrection" after Mansfield announced his retirement and his replacement, Dan Riccio, was announced.
After Mansfield, the next highest paid on Apple's team was Sewell, the company's general counsel and senior vice president of Legal and Government Affairs. He earned $69 million in 2012, ranking him third among executives on the S&P 500.
Just behind him with a $68.7 million payday last year was Williams, who serves as the company's senior vice president of Operations. Williams took that position in 2010 after more than a decade with Apple.
Finally, the fifth-highest-paid S&P 500 executive in 2012 was Oppenheimer, who serves as Apple's chief financial officer. He took in $68.6 million in total compensation last year.
The top corporate earner was Larry Ellison, CEO of Oracle, who earned $96.2 million. In contrast, Apple's CEO Cook earned $4.17 million in 2012, following the $378 million restricted stock package he netted in 2011.