Time Warner Cable to offer on-the-go live TV with 'TWC TV' iOS app update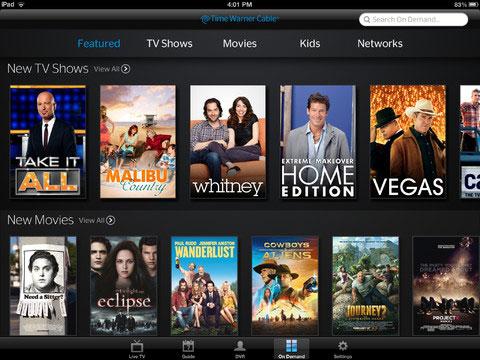 America's second-largest cable TV provider, Time Warner Cable, is slated to augment its iOS TWC TV app with live "out-of-home" programming, lifting existing limitations that require a user to view content from a Wi-Fi network associated with a cable subscription.
Starting at 10 a.m. Eastern on Wednesday, Time Warner subscribers will be able to access up to 11 live national news, sports and entertainment channels on Apple devices from outside their homes. The new offerings will be available to iPhone, iPad, iPad mini and iPod touch owners.
As for specific content, the company plans to make available 26 networks, including the Big Ten Network, the Pac-12 Network, and BBC America, among others. Local TV stations such as Time Warner Cable local news, traffic and weather channels NY1, NY1 Noticias, YNN and News 14 are said to see support as well, though coverage will be limited as licensing agreements have hindered a nationwide rollout.
In addition to the network and live content, select Video On Demand programs will be available for viewing wherever a Wi-Fi connection is present.
The update will also bring in-the-home viewing improvements to the live TV mini-guide, including new filtering and sorting features for over 200 live broadcast channels. A complete channel lineup and feature overview can be found on the TWC TV informational webpage.
The new TWC TV capabilities will be available as a free service for Time Warner Cable subscribers, though the full in-home channel lineup can only be accessed via a Time Warner authorized modem.