Verizon's 4M iPhone activations in line with expectations, showing Apple's 'stability'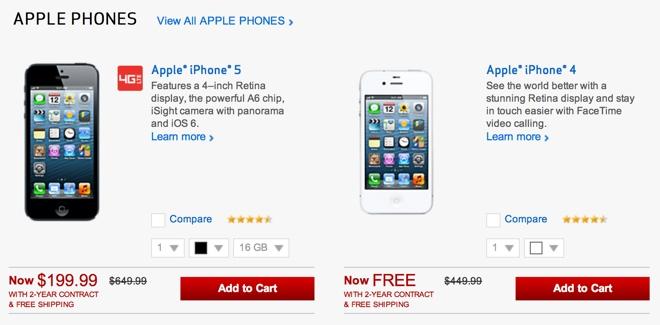 While iPhone growth may be slowing, Apple's hugely profitable smartphone franchise isn't going anywhere, as evidenced by the latest on-target activation numbers at Verizon, the largest carrier in the U.S.
The iPhone represented more than half of all smartphone activations at Verizon in the March quarter, reaching almost 56 percent. That share is an increase from the same quarter a year ago, when the iPhone was 51 percent of Verizon smartphone activations.
To analyst Gene Munster of Piper Jaffray, Verizon's results "show stability in iPhone's franchise in the U.S.," something that he believes should be viewed as a comforting positive to investors in AAPL stock.
Munster has projected that Apple sold 35.5 million iPhones in its March quarter, an estimate slightly lower than Wall Street expectations of 37 million units. The analyst noted that the big "wild card" leading up to Apple's earnings report is international iPhone sales.
Verizon also reported on Thursday that about half of the 4 million iPhone activations it saw were LTE models. Currently, only one iPhone model offers 4G LTE connectivity: the iPhone 5.
To Munster, a 50-50 split between the iPhone 5 and the legacy iPhone 4S and iPhone 4 models could imply a slightly weaker average selling price on iPhones for the March quarter. He had instead expected the iPhone 5 would account for about 60 percent of total iPhone sales.
If the iPhone 5 represented 50 percent of total iPhone sales outside of Verizon, he believes it could mean a 4 percent downside to his projected $625 average selling price. That would lower the ASP of the iPhone to $600 for the March quarter.
The speculation and estimates for Apple's March quarter will come to an end next week, when the company will report earnings for its second fiscal quarter of 2013 on Tuesday, April 23. Earnings will be reported after the markets close, and a conference call with members of Apple's executive team will follow at 5 p.m. Eastern, 2 p.m. Pacific. AppleInsider will have full, live coverage.