Apple's 'flypaper-like' ecosystem viewed as an undervalued asset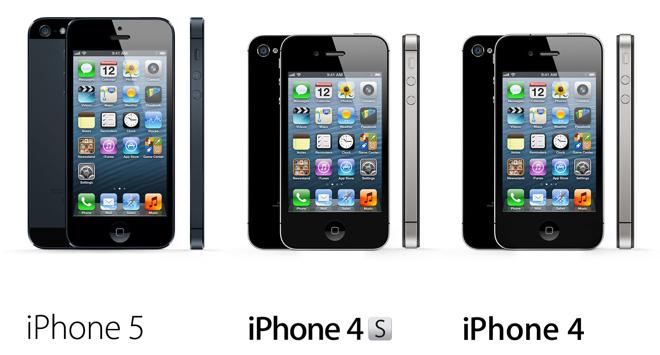 AppleInsider is supported by its audience and may earn commission as an Amazon Associate and affiliate partner on qualifying purchases. These affiliate partnerships do not influence our editorial content.
The ecosystem supporting Apple's products can be deceptively sticky, akin to flypaper, which is why one analyst believes its value has been underestimated by the investment community.
The revelation came to Brian Marshall of ISI Group this weekend, when he went to Best Buy with the intent of buying Samsung's new flagship smartphone, the Galaxy S4. Though he was prepared to make the switch, drawn by the larger display of the Galaxy S4, White found that he got "cold feet" at the last minute.
Apple's current iPhone lineup.
The main reason, he said, was Apple's "flypaper-like" ecosystem. Marshall just couldn't imagine abandoning the platform he's utilized for about 6 years, or almost one-seventh of his entire life.
"Every single day, I use iOS, iTunes, iBookstore, App Store, FaceTime, etc. and sync with other Apple products," he said, equating his reliance on Apple's ecosystem to "muscle memory."
In Marshall's view, the "stickiness" of Apple's ecosystem is one of the most undervalued components of the company's business. In his case, the value of Apple's platform was great enough to overrule his desire for a larger smartphone display.
Marshall still believes that Apple has a "big void" in its product lineup by not offering a big-screen iPhone. He believes larger displays can offer a superior experience, particularly with regard to typing.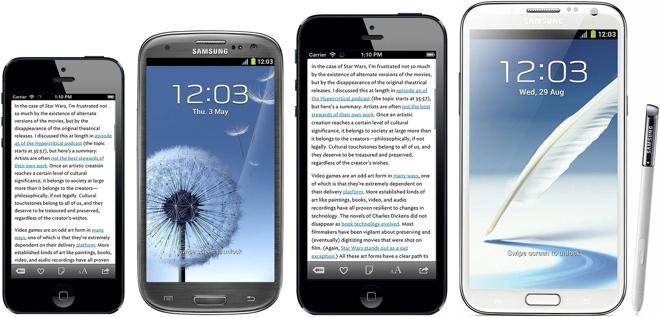 Mockup of iPhone with 4.94-inch screen, created by Marco Arment.
Despite the strength of the iPhone ecosystem, Apple executives "have to give customers what they want," the analyst said Monday. In his eyes, customers simply want a new iPhone with a 5-inch display.
For now, Marshall remains an iPhone 5 user, though he's hopeful Apple will launch a big-screen iPhone in the next 6 to 9 months. ISI Group has maintained its "buy" rating for AAPL stock with a price target of $600.
In addition to Marshall's assessment, businessman and television personality Donald Trump weighed in through his official Twitter and Facebook accounts on Monday, calling on Apple to release a big-screen iPhone:
I have a lot of @apple stock— - and I miss Steve Jobs. Tim Cook must immediately increase the size of the screen... fb.me/Hjj8Y27p

— Donald J. Trump (@realDonaldTrump) April 29, 2013
Apple Chief Executive Tim Cook was asked about the possibility of a big-screen iPhone during his company's quarterly earnings conference call last week. He hinted that such a device could be in the cards, but indicated that Apple would not be interested in selling a so-called "iPhone plus" until certain "trade-offs" could be avoided.
"Some customers value large screen size," Cook said. "Others value also other factors such as resolution, color quality, white balance, brightness, reflectivity, screen longevity, power consumption, portability, compatibility with apps and many things.
"Our competitors had made some significant trade-offs in many of these areas in order to ship a larger display. We would not ship a larger display iPhone while these trade-offs exist."