Samsung's new 7" Galaxy Tab 3 to take on Apple's iPad mini, and take phone calls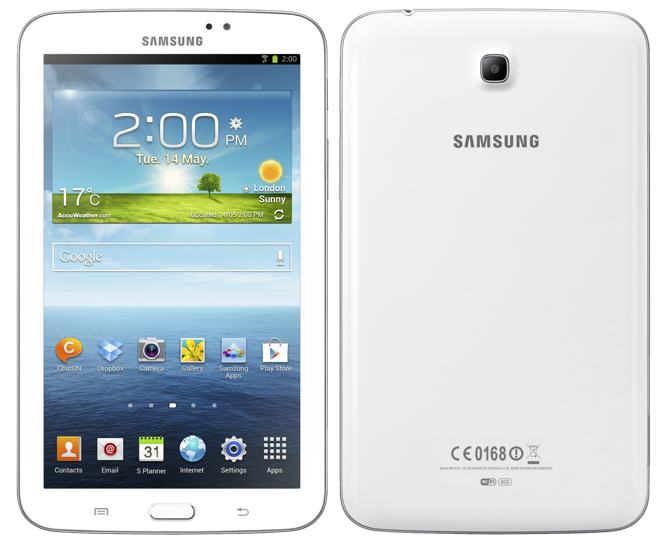 Samsung on Monday announced its new third-generation Galaxy Tab, a modestly equipped 7-inch tablet with a 3G-enabled variant that will also double as a phone.
Specifications on the Galaxy Tab 3 suggest Samsung intends to undercut the $329 starting price of Apple's iPad mini, though pricing has not been announced. The Galaxy Tab 3 will mark Samsung's second mid-sized tablet entry for 2013, following the release in April of its Galaxy Note 8.0, a stylus-enabled affair that competes more directly with the iPad mini in terms of screen size and capabilities.
The new tablet will include a 7-inch display at a resolution of 1,024 by 600 pixels, and it will be backed by a 1.2-gigahertz processor and options for 8 or 16 gigabytes of internal storage. The Galaxy Tab 3 will also sport a 3-megapixel rear camera, plus a 1.3-megapixel forward-facing lens. It will ship with Android 4.1 Jelly Bean.
One of the key features of the Galaxy Tab 3 highlighted by Samsung was the "easy handgrip and portability" with its new 7-inch-class tablet. It features a thinner bezel than the previous-generation Galaxy Tab 2.
Perhaps most interesting about the Galaxy Tab 3 is the 3G model, which will be able to take phone calls like a smartphone. Unlike Apple's iPad mini, the Galaxy Tab 3 will not offer high-speed 4G LTE wireless connectivity.
Samsung announced that the Galaxy Tab 3 will launch globally beginning in May with the Wi-Fi-only model. The 3G-capable version with phone call functionality will debut in June.