Samsung celebrity tweets out support for Galaxy S4 from his iPhone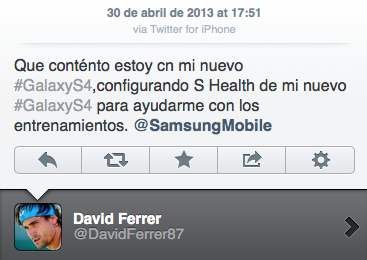 Spanish tennis player David Ferrer sent a tweet out to his more than 350,000 followers noting his pleasure with using Samsung's new Galaxy S4, but accidentally sent the message from his iPhone.
Samsung is a sponsor of the Mutua Madrid Open tennis tournament that begins this weekend. Ferrer intended to send out a tweet stating he was very happy with his #GalaxyS4 and that he was "configuring S Health on my new #GalaxyS4 to help with training @SamsungMobile."
He neglected to notice that the advertisement was being labeled as "via Twitter from iPhone" because he actually uses an iPhone.
Before scrambling to take it down, the message was noted by Jaime Novoa and picked up by the Spanish edition of the Huffington Post.
After reposting the message without the telltale iPhone reference, his tweet was heckled by couple followers, one who wrote "Pues bien que lo envías desde un iPhone @SamsungMobile" ("I send from an iPhone"). Another made reference to his "iPhoneGalaxy4."
This all happened before
The Huffington Post report noted a similarity with Blackberry's new spokesperson Alicia Keys, who after getting on stage with the company's chief executive Thorsten Heins to recount a story of how she had figuratively broken up with another phone for her new "exclusive" relationship with Blackberry, returned to posting tweets from her iPhone.
A similar effort by the Chinese government owned CCT to spread anti-Apple outrage via social media was blunted when many of the celebrities posted their ghostwritten responses with conspicuous credit given to Apple's iPhone and iPad as the device used to send the messages.
One of the celebrities involved, Peter Ho, even accidentally included a reference to the time of day the group was instructed to post their phony concerns. Once discovered, Ho scrambled to delete the posts and made up stories about his phone being stolen and his account being hacked.
Lots of money, ineffectively spent
Samsung has spend big money on advertising, hoping to position its Galaxy devices as a premium brand. Last year, the company outspent Apple with a greater than $400 million ad budget.
Last fall, however, an internal study of Samsung's big new push in advertising indicated that half of the Super Bowl audience watching the company's expensive ads for its Galaxy Tab thought they were seeing an iPad ad. The report was presented by Apple as evidence against Samsung's copying of its design and marketing.
"Only 11 percent of customers are aware of and can link the Galaxy Tab back to Samsung, while 65% of consumers are aware and can link the iPad back to Apple," the report stated.
The company's internal study noted that primary reason consumers were reporting for why they weren't considering the Galaxy Tab was "lack of awareness of the product," and noted that "TV advertising has had minimal impact primarily because of misattribution."