Samsung spent $68M more than Apple on 2012 phone ads, increased budget fivefold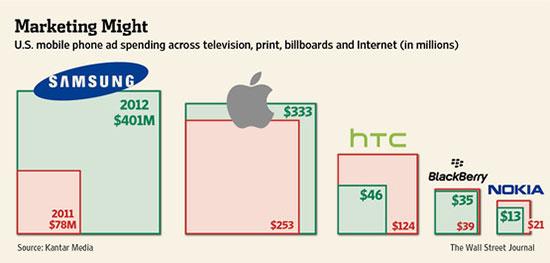 According to new research released on Tuesday, Samsung spent a whopping $401 million on U.S. print, television, billboards and internet advertisements in 2012, leapfrogging past HTC and its biggest rival Apple, which in 2011 outspent the Korean firm more than three to one.
Data from advertising research and consulting firm Kantar Media shows that Samsung boosted U.S. ad spending by some $323 million between 2011 to 2012, while second-biggest spender Apple's budget went from $253 million to $333 million over the same period, reports The Wall Street Journal.
In contrast to Samsung and Apple, third place HTC slashed spending to $46 million, down from $124 million in 2011. Rounding out the top five were BlackBerry and Nokia, which also cut their budgets last year.
Despite Samsung's incredible influx of ad money, aimed at promoting handsets like the Galaxy S III, the company took second place to Apple's iPhone as America's most effective mobile phone brand, said advertising analytics firm Ace Metrix in January. Interestingly, Ace went on to name the Korean tech giant as the overall top technology brand of 2012.
The Galaxy maker is perhaps most well known for "The Next Big Thing is Already Here" campaign, which constantly ribbed iPhone users as hapless followers, and Samsung doesn't appear to be letting up, as the company's Super Bowl TV spot from February poked fun at Apple's ongoing worldwide patent litigation.
The WSJ said advertising is but one of the many investments Samsung is making to ensure that it retains its lead in the global smartphone market, which is now largely a two horse race against Apple. As noted by the publication, executives from cellular providers claim Samsung spends the most money on "below the line" marketing such as in-store advertising and promotions.
As for 2013, the Korean company will likely continue its less than frugal advertising blitz with the upcoming Galaxy S4 launch, which is expected to take place on Thursday at Radio City Music Hall in New York City.