DOJ: Email from Steve Jobs implies Apple wanted to create falsely inflated e-book pricing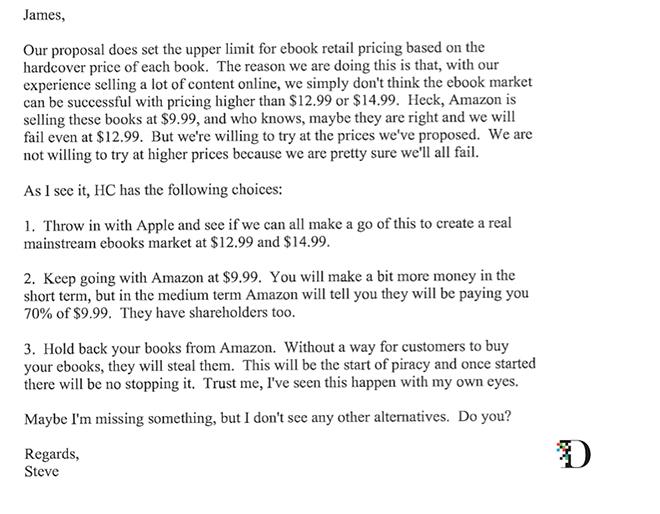 AppleInsider may earn an affiliate commission on purchases made through links on our site.
An email from late Apple cofounder Steve Jobs to then CEO of News Corp. James Murdoch suggests the Cupertino company was looking to set the price of e-books sold through the iBookstore at rates higher than market leader Amazon, says the U.S. Department of Justice.
First mentioned by the Justice Department court filings for its upcoming antitrust suit against Apple, the email was published in full today by AllThingsD, giving a glimpse at how the DOJ plans to run its case.
As seen above, the email may not be as damning as alluded to by the DOJ when it quoted the letter in a findings of facts filing.
The DOJ's excerpt from its memo:
"Throw in with Apple and see if we can all make a go of this to create a real mainstream e-books market at $12.99 and $14.99."
Jobs wrote the note to Murdoch, whose company owns HarperCollins, hoping to get the major book publisher on board with Apple's iBookstore. However, when read as part of the longer email, the snippet seems somewhat less important to the DOJ's argument that Apple colluded to fix e-book prices above prevailing costs set by Amazon.
"Heck, Amazon is selling these books at $9.99, and who knows maybe they are right and we will fail even at $12.99. But we're willing to try at the prices we proposed. We are not willing to try at higher prices, because we are pretty sure we'll all fail."
For its part, Apple denies the claims, asserting that the e-book industry has actaully thrived after the iBookstore launched in 2010.
"We helped transform the eBook market with the introduction of the iBookstore in 2010 bringing consumers an expanded selection of eBooks and delivering innovative new features," said Apple spokesman Tom Neumayr on Tuesday.
Both sides will present their respective arguments when they meet at a bench trial on June 3.