iPhone's popularity among Facebook staff may have aided in Home's lackluster launch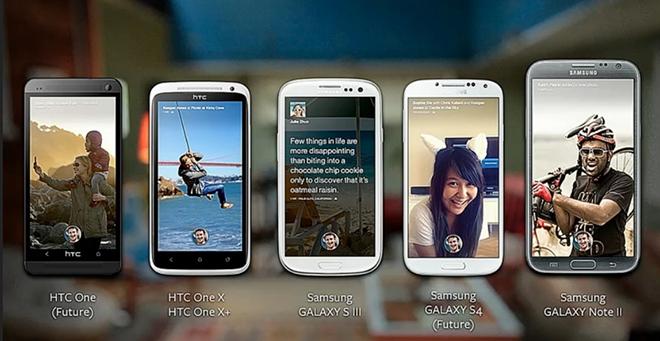 AppleInsider is supported by its audience and may earn commission as an Amazon Associate and affiliate partner on qualifying purchases. These affiliate partnerships do not influence our editorial content.
The launch of Facebook's Home layer on Android appears to have been a flop, with relatively low installation rates and even lower user ratings on Google Play thus far. Now, some observers are blaming an unlikely candidate: Apple's iPhone.
The popularity of Apple's iPhone among Facebook's personnel is one big reason the social network's power grab on the Android platform has sputtered so far, notes TechCrunch. Facebook, it's presumed, simply doesn't have enough dedicated Android users to know what works best on Google's mobile operating system.
Facebook employees reportedly admitted that many of the testers for Home were normally iPhone users and thus were unable to see anything wrong with the changes Home made to a user's Android handset. These included changes like doing away with widgets, removing the dock for oft-used apps, and keeping users from creating app folders.
The problem, at least in part, is that the iPhone is much more popular within Facebook's ranks than Android on the whole. The Facebook app for iOS is more polished, especially on the tablet end.
Last year, the social network began an effort to bring its Android app up to par with its iOS counterpart. The company began requiring app developers to carry Android phones and to use Facebook's Android app in order to see what was wrong with it and how to fix it.
Facebook executives have acknowledged their missteps in creating Home, and the company is readying a new version of the Android skin that will address many user complaints. Users apparently like Cover Feed and Chat Heads, and the app typically leads to users spending 25 percent more time on Facebook. The new version, though, will bring back the dock for most used apps and present users with a walkthrough when they first start up the app.
Facebook Home debuted to much fanfare and attention, but just over a month later the Facebook-themed Android skin has seen little traction among the massive U.S. Android install base. Officially available for six Android handsets, Home, according to Google Play stats, has seen only between a million and five million downloads — Facebook and Facebook Messenger both have between 100 million and 500 million installs — and the app recently slipped out of the top 100 Android apps.
Compounding the perception of a flop, the much-hyped "Facebook Phone" — the HTC First — has seen sluggish sales since debuting alongside Home. Sources claim that the First has moved fewer than 15,000 units in over a month, and that AT&T is discontinuing the device after having dropped it to $0.99 from $99.
Facebook CEO Mark Zuckerberg has said the social network would be interested in bringing a Home-like experience to iOS, but that the control Apple exerts over its platform would preclude such a feature. Instead, Facebook has been tweaking its iOS app in order to bring Home-like features such as Chat Heads to iPhones and iPads.