Working Apple I fetches $671,400 in German auction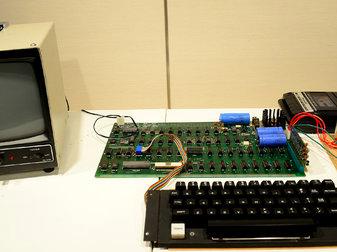 Apple's computers are known for their premium price points, but one could probably buy out half of an Apple store for the price one buyer just paid for a functioning Apple I signed by company cofounder Steve Wozniak.
Emmanuel Dunand/Agence France-Presse — Getty Images
Saturday saw an anonymous buyer from the Far East paying a record $671,400 for an Apple I, beating the $640,000 record set last year and nearly doubling the record prior to that, according to The New York Times. When the early Apple computer was first released in 1976, it sold for $666 (about $2,700 in current dollars).
The unit sold on Saturday had had only one owner from the time it was bought in 1976 until very recently. That owner, a retired electrical engineer living in New Orleans, sold the device to an interested party earlier this year for $40,000.
The computer was not in working condition when its original owner sold it. The buyer swapped in new components and wiring, making the nearly 40-year-old computer functional again. The buyer then took the Apple I to California, where he arranged a meeting with Apple co-founder Steve Wozniak and got Wozniak to sign the device.
Informed of the price the device eventually fetched, the original owner said, "My God," before adding, "Best to him. He's the one who fixed it up and figured the best way to sell it for all that money. Evidently, he's very good at this."
The Apple I was Apple's first computer, and the number of functioning units is thought to be in the single digits. Functioning and non-functioning units that go up for auction regularly sell for hundreds of thousands of dollars. A working Apple I motherboard sold last year for $375,000.