Apple widens lead over Samsung in U.S. smartphone market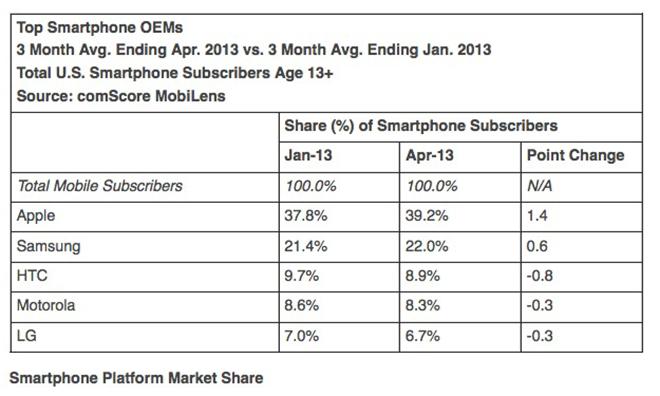 Apple and Samsung both continue to increase their share of the United States' smartphone market, but according to new data, Apple is growing at a faster clip and extended its lead over rival Samsung as iPhone marketshare peaked at nearly 40 percent in the last three months.
Industry monitor comScore released its MobiLens overview of the smartphone market on Tuesday, showing that Apple's iPhone accounted 39.2 percent of U.S. smartphone subscribers. The company retained its lead for the three months ending in April, with marketshare up 1.4 points from the end of January, when it held a 37.8 percent share of the market.
At the end of January, Samsung was the second-largest manufacturer in the U.S. market, though at 21.4 percent, it trailed Apple by 16.4 percentage points. In the most recent figures, Apple's lead has expanded to 17.2 percentage points, even as Samsung's overall share ticked upward by 0.6 points over the past three months.
No other smartphone manufacturer managed to crack double digit share. The remaining top five manufacturers — HTC, Motorola, and LG — all lost ground, with the troubled HTC dropping in share by nearly a full percentage point.
While Apple holds the top spot in the United States, its South Korean rival sells the most phones worldwide, moving more than 70 million smartphones in the first quarter of 2013. Together, the two companies account for all of the profit in the smartphone segment.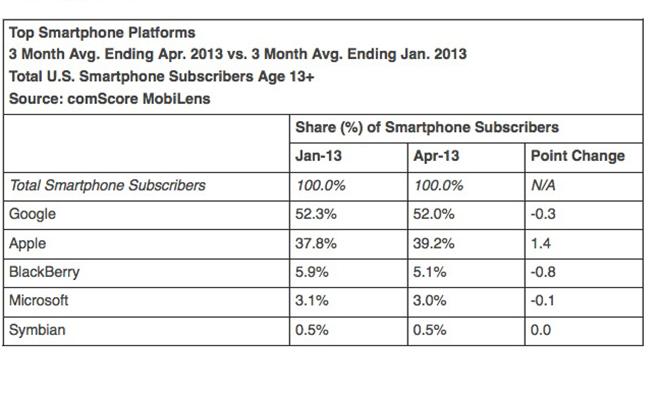 Apple also saw gains in terms of operating system market share. Strong iPhone sales led to Apple's iOS being the only platform to boost its share for the three month period ending in April, rising 1.4 points to 39.2 percent of the U.S. market. BlackBerry, with its new BlackBerry 10 devices recently released, suffered the most in the United States from Apple's rise, dropping 0.8 points in the quarter. Google's Android dropped 0.3 points through April, while Microsoft's Windows Phone platform dropped 0.1 points.